Service Goat by Piers Anthony – Book Review
Service Goat by Piers Anthony – Book Review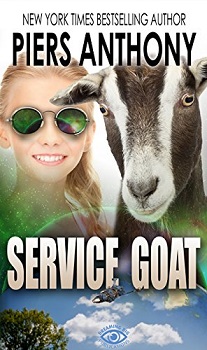 Service Goat
Author – Piers Anthony
Publisher – Createspace
Pages – 154
Release Date – 9th October 2016
ISBN-13 – 978-1539167983
Format – ebook, paperback, audio
Reviewer –
Julie
I received a free copy of this book
Post Contains Affiliate Links

Orphaned and blind seven-year-old Callie has a service animal – a goat with extraordinary powers.
Ben Hemoth is a down-on-his luck news reporter facing prison. Needing to save his job and his reputation, he teams up with Venus, a young seductress caught up with a teenage drug gang.
When a mysterious letter arrives detailing a top-secret investigative operation, Ben and Venus think they've found their chance for redemption. The mission? Investigate a goat.
In exchange for an extravagant paycheck, Ben and Venus must piece together the wild rumors swirling around Callie, her supernatural goat, and a possible UFO visit.
Piers Anthony's Service Goat is an extraordinary tale rich with adventure, extraterrestrial visitors, secrecy, dangerous governmental operations, and the classic hints of mischief that readers have come to expect and love from the New York Times bestselling author of the Xanth series.
Review
'Service Goat' is a thirty thousand word novella by well-established American author, Piers Anthony. It is a quirky little tale which can easily be read in one sitting. In my case, whilst I was waiting to be triaged in the Emergency Room.
I did wonder briefly it this was aimed at children however the speedy introduction of rather a lot of adult content, albeit with a degree of irony and humour, made me realise I was wrong.
I don't think the cover sells the book particularly. It looks like a photograph which doesn't catch the eye of the reader. I think this unconventional story would have benefited from an unconventional design, but others may disagree with me.
There is no time to flesh out of characters but nevertheless, the author does manage to convince us of the bond between girl and goat, as well as the unlikely relationship between an ex-reporter and teenage tearaway.
The plot zips along with dual threads until the two sets of characters meet, in roughly the middle of the book. This sometimes necessitates the duplication of scenes, acted out from two different perspectives. However, at no time did I find this confusing as the structure was refreshingly simple.
This is undoubtedly an original story which doesn't take itself too seriously and I congratulate the author on his depth of imagination. It took my attention away from my broken arm and will appeal to anyone who enjoys a superficial innovative fantasy adventure. I award 'Service Goat' four well-deserved idiosyncratic stars.
Book reviewed by Julie
Purchase Links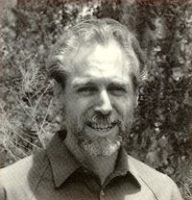 Though he spent the first four years of his life in England, Piers never returned to live in his country of birth after moving to Spain and immigrated to America at age six. After graduating with a B.A. from Goddard College, he married one of his fellow students and and spent fifteen years in an assortment of professions before he began writing fiction full-time.
Piers is a self-proclaimed environmentalist and lives on a tree farm in Florida with his wife. They have two grown daughters.
Author Links