Transformed Paris by Suzanne Falter & Jack Harvey – Book Review
Transformed Paris by Suzanne Falter & Jack Harvey – Book Review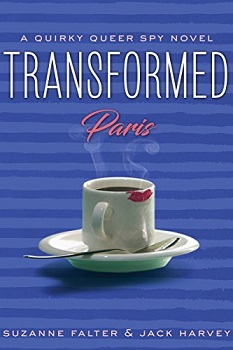 Transformed Paris
Author – Suzanne Falter & Jack Harvey
Publisher – New Heights Pub
Pages – 218
Release Date – 13th September 2016
ISBN-13 – 978-0996998116
Format – ebook, paperback, audio
Reviewer – Clive
I received a free copy of this book
Post Contains Affiliate Links

Transman spy Charley MacElroy travels to Paris to help French authorities break up a Neo Nazi plot to scatter dirty bombs throughout the city. His older lover Electra comes along to study French, but she soon discovers Dickie Borque, an sinister British aristocrat with lavender hair, may be behind the plot. Charley, however, is not so sure.
Meanwhile, she and Charley begin having love troubles when he suggests opening up their relationship to suit his pansexual desires. After discovering that he may have been fooling around with his attractive new male assistant, Electra moves out in a huff. Soon Charley is wandering the quays alone, trying to find the dirty bombs while wistfully longing for his love.
Electra enlists the help of Dickie's feisty eighty-something milliner, Odile, to break up the plot. But then suddenly, Electra disappears. Now Charley must search frantically for both the bombs and Electra amidst the cafes, conversation, and the gleaming, rainy streets of Paris in winter.
Review
Transformed: Paris is a fairly simple spy story based around the migration and terrorist issues facing Europe today, and an American couple's attempts to foil a neo-Nazi bomb plot. Where it differs from the norm is the gender and sexual preferences of the lead characters. All this is delivered in a quirky and mildly comical style.
I enjoyed the descriptions of Paris and the lifestyles of the characters, although it seemed to me that they were living more in the 1950s instead of the early 21st Century. I also appreciated the authors handling of the LGBT issues.
I was rather uncomfortable with the humour based around the bomb plots. Over the last few years there have been a large number of terrorist attacks on European cities, so many people will not want to read a book that is seeking to make fun of such events. It is all too close to home.
The small cast of characters did not have great depth. Charley was believable, Electra was fun and you will appreciate Odile. Dickie Dame of Borque was just grotesque, and the inept bomber Cask was ridiculous.
Transformed: Paris is an easy, light read that was for me marred by the humour based around what is currently a very sensitive issue. I have awarded three stars.
Book reviewed by Clive
Purchase Links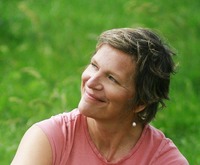 Suzanne Falter is an author, speaker and blogger who over the years has helped more than two million people find their way back to joy. These days she writes fearless stories — novels about uncommon heroes who overcome the odds, and a memoir about finding her way back to real happiness after the sudden death of her daughter Teal.
Her latest fiction series, Transformed, follows a transman spy and a society dominatrix's adventures around the world. She is the author of the book, Surrendering to Joy as well as How Much Joy Can You Stand? and Living Your Joy (both Ballantine.) Fiction titles include Transformed: San Francisco and Transformed: Paris.
Author Links
www.suzannefalter.com
@SuzanneFalter
Facebook
Pinterest
Goodreads