The Writing Life of: Lynda Stacey
Lynda Stacey
This week on 'The Writing Life of:' I am thrilled to be interviewing author Lynda Stacey. Lynda will be sharing with us detail of her writing life, telling us all about her latest book 'House of Secrets', which was released on 4th July 2017, and answering a few fun questions too.
So without further ado I'll hand you over to Lynda. Post contains affiliate links.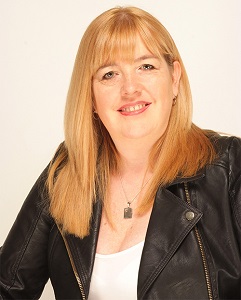 Lynda grew up in the mining village of Bentley, Doncaster, in South Yorkshire and went to both Bentley New Village School, and Don Valley High School.
She is currently the Sales Director of a stationery, office supplies and office furniture company in Doncaster, where she has worked for the past 25 years. Prior to this she'd also been a nurse, a model, an emergency first response instructor and a PADI Scuba Diving Instructor … and yes, she was crazy enough to dive in the sea with sharks, without a cage.
Following a car accident in 2008, Lynda was left with limited mobility in her right arm. Unable to dive or teach anymore, she turned to her love of writing, a hobby she'd followed avidly since being a teenager.
Her own life story, along with varied career choices helps Lynda to create stories of romantic suspense, with challenging and unpredictable plots, along with (as in all romances) very happy endings.
Lynda joined the Romantic Novelist Association in 2014 under the umbrella of the New Writers Scheme and in 2015, her debut novel House of Secrets won the Choc Lit & Whole Story Audiobooks Search for a Star competition.
She lives in a small rural hamlet near Doncaster, with her 'hero at home husband', Haydn, whom she's been happily married to for over 20 years.
---
1) As a child what did you want to do when you grew up?
Initially I wanted to be a nurse, but spent many hours writing stories and from a teenager the idea of being an author has always been at the back of my mind.
2) Who were your favourite childhood authors?
Enid Blyton of course.
3) At what point in your life did you realise you wanted to be a writer?
At the age of 14. My English teacher pulled me to one side and suggested that I seriously consider doing something to do with writing as a career … it only took me 30 years to follow his advise.
4) How did you go about following that dream?
To be fair, I didn't. I've done many things in my life and my ultimate job was as a scuba diving instructor. I loved taking people into the water and teaching them from their very first breaths, right through to being instructors themselves. But, I was in a car accident, my right arm was compromised and I couldn't teach anymore.
The last thing on my agenda was to watch TV soaps, so I began writing again. I took it seriously and joined the Romantic Novelists Association where I met some fabulous authors who have all been very generous with their advice.
5) What is your writing day like? Do you aim for a certain amount of pages or words before you stop for the day?
My writing day… lol … I don't really have one. I'm a full time Sales Director for a stationery and office supplies company. So, my writing has to fit in as and when I can. I also can't force the words, some days they come automatically, other days it's like pulling teeth.
6) Did you ever consider writing under a pseudonym?
No, never. I'm proud of what I do and if I'm honest, there are days that I'm so busy I forget who I am … if I had two names I'd end up in a bit of a pickle.
7) Do you have any strange habits before starting, or whilst in the midst of writing?
Not that I know of, maybe you should ask my husband.
8) Do you write longhand, typewriter, or on a computer?
I use an iMac laptop. My brain works too quickly for me to write long hand. If I did, a day later, I'd never understand what I'd written.
9) How many books have you written? Do you have any unpublished work?
I've written four books. House of Secrets, Tell me no Secrets, which are published. I then have House of Christmas Secrets and Twisted Secrets, which are both to be published with Choc Lit very soon.
10) Are you a plotter or a pantser?
Very much a panster… my characters do what they want, whether I like it or not.
11) Do you read all the reviews left for your book(s)?
Yes, I read the reviews. My strategy with the bad ones is to pour a glass of wine. Thankfully there haven't been too many, so I'm still relatively sober.
Concerning your latest book:
House of Secrets
Author – Lynda Stacey
Publisher – Choc Lit
Pages – 320
Release Date – 4th July 2017
ISBN 13 – 978-1781893746
Format – ebook, paperback

A woman on the run, a broken man and a house with a shocking secret …
Madeleine Frost has to get away. Her partner Liam has become increasingly controlling to the point that Maddie fears for her safety, and that of her young daughter Poppy.
Desperation leads Maddie to the hotel owned by her estranged father – the extraordinarily beautiful Wrea Head Hall in Yorkshire. There, she meets Christopher 'Bandit' Lawless, an ex-marine and the gamekeeper of the hall, whose brusque manner conceals a painful past.
After discovering a diary belonging to a previous owner, Maddie and Bandit find themselves immersed in the history of the old house, uncovering its secrets, scandals, tragedies – and, all the while, becoming closer.
But Liam still won't let go, he wants Maddie back, and when Liam wants something he gets it, no matter who he hurts …

12) How long did it take you to get from the idea's stage to your date of publication?
It took around three years. Around a year to write, a year of submitting and another waiting for all the edits, covers etc to happen.
13) How did you come up with the names for your characters?
I have no idea, they just come to me. The name has to sound right.
14) Can you give us an insight into your main character(s) life?, What makes them tick?
Madeleine is a single parent after her first husband was killed in a car accident, but she's a strong character and soon finds her feet, albeit she makes a few bad choices along the way.
And Bandit, he's an ex-marine with an overprotective nature. Oh … and he's gorgeous. .. did anyone tell you how gorgeous he is!?
15) Which was your hardest scene to write?
All of them. I take each scene very seriously and try to put as much into them as I can.
16) How did you come up with the title of your book?
It was a joint decision with Choc Lit, my publisher.
17) Did you get a family member/friend to read your work before sending to the publishers?
Yes. I have a sister in law who is brutally honest, along with a cousin who is happy to tell me exactly how it is. I'm lucky to have them both.
18) What process did you go through to get your book published?
I entered the Choc Lit Search for a Star competition and won it.
19) What did you do once you had written the final word in your book?
I held my breath while my family members read it.
20) What's next for you, writing-wise?
I'm looking at working on a project very close to home that involves the archaeological mysteries of The Sand House in Doncaster. I love the past and feel that having an archaeologist heroine would be fun.
1) What's your favourite food?
Cake and chocolate, preferably both (with wine … can I have wine?)
2) If you had a box of crayons and you could only choose one, which colour would you choose?
Pink.
3) What movie could you watch over and over again?
Mamma Mia
4) What would be the top song on your playlist?
Immortality by Celine Dion and the Bee Gees
5) If you won millions on the lottery, what would be your first purchase?
Retirement
6) A talking duck walks into your room wearing a baseball cap and sunglasses, whats the first thing he says to you?
"Oh no, you're not on that laptop again, are you?"
You can find out more about Lynda by visiting the website/social media sites below.
www.lyndastacey.co.uk
@LyndaStacey
Goodreads
I would like to say a big thank you to Lynda for sharing with us details of her writing life, and for a wonderful interview.