Brake Failure by Alison Brodie – Book Review
Brake Failure by Alison Brodie – Book Review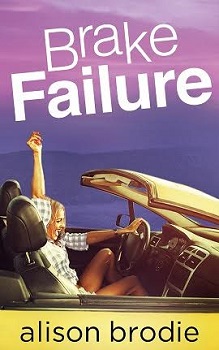 Brake Failure
Author – Alison Brodie
Publisher – Clipboard Press
Pages – 295
Release Date – 9th January 2016
Format – ebook
Reviewer – Stacey
I received a free copy of this book
Post Contains Affiliate Links

"Is it too late to tell him you love him when you are looking down the barrel of his gun?"
An English debutante transforms from Miss-Perfectly-Correct to criminally insane as she breaks the bonds of her rigid upbringing. Sheriff Hank Gephart tries to reel her in – but she's out of control and she's not hitting the brakes.
What happened to the genteel lady in twin-set and pearls? And why did she shoot Mr Right?
Brake Failure is set in 1999 in the months leading up to Y2K "meltdown" when the US government was spending $150 billion preparing for Armageddon As Lionel Shriver says in her novel, We Have To Talk About Kevin: "1999, a year widely mooted beforehand as the end of the world."

Hypochondriac Ruby and her step sister Claire are highly competitive. They have a love/hate relationship, with more focus being on the hate. When Ruby's husband is offered a job in Paris, Ruby is so excited and can't wait to move, as well as shove the information in Claire's face, as Paris is her dream home destination.
Cruelly, her husband accepts a different job, this time taking them from the streets of London and in the opposite direction of Paris, to the middle of Kansas, USA, leaving Ruby red-faced and angry.
She feels like a fish out of water and finds the locals a little overbearing, with their 101 questions about the monarchy, for which Ruby has to make up seemingly plausible answers on the spot. However over time, she acclimatises and starts to fit in, maybe just a little too much. For this quaint English Rose, life is about to get full-on excited, that is if the local Sheriff, Hank Gephart can stop catching up with her.
Brake Failure is set in the few weeks leading up to the year 2000, and is told from Ruby's, and the local sheriff, who is dealing with a bank robbery's, perspectives.
The book opens with the shooting of Sheriff Gephart, and then jumps back in time to sixteen weeks earlier. This is a pattern continued throughout the story, with each time it is told from Ruby's perspective we move a week forward, until the two timelines meet.
From the opening line of 'There's a dead man at the door', to the final page, this book kept me entertained. It is comical the whole way through, and will definitely have you laughing at the many puns. The book veered me off course on more than one occasion, which I liked, as not being able to predict what is going to happen next heightens the thrill.
What more could you want? A superb plot, fascinatingly amusing characters, and splendid writing! A perfect five stars from me.
Book reviewed by Stacey
Purchase Links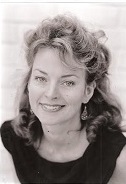 Alison Brodie is a Scot, with French Huguenot ancestors on her mother's side. Alison was a photographic model for a wide range of products, such as Ducatti motorbikes and 7Up. She was also the vampire in the Schweppes commercial.
A disastrous modelling assignment in the Scottish Highlands gave Alison an idea for her first romance novel, Face to Face. It was taken up by Dinah Wiener, the first agent Alison sent it to. Three weeks later, Alison signed a two-book deal with Hodder & Stoughton. Subsequently, Face to Face was published in English, German and Dutch. "Vain, but wildly funny leading lady." -Scottish Daily Mail. It was also chosen as Good Housekeeping's "Pick of the Paperbacks."
Unfortunately, Alison then suffered from Second-Book Syndrome. The publisher's deadline loomed but Alison couldn't think of a story! She found the whole experience a nightmare; and this is why she cautions first-time authors not to sign a multi-book deal unless they are prepared!
Alison lived in Kansas for two years. She loved the people, their friendliness, the history and the BBQs! Now, she lives in Biarritz, France with her rescue mutt, Bayley.
Alison's previous release, THE DOUBLE, was published to rave reviews.
Author Links
www.alisonbrodiebooks.com
@alisonbrodie2
Facebook
Pinterest
Goodreads