Murder, Murder, Murder in Gilded Central Park by Cecelia Tichi – Book Review
Murder, Murder, Murder in Gilded Central Park by Cecelia Tichi – Book Review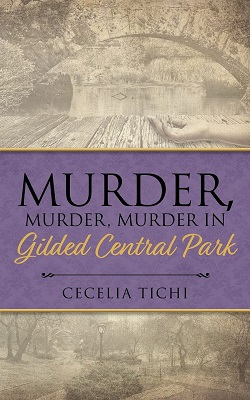 Murder, Murder, Murder in Gilded Central Park
Author – Cecelia Tichi
Pages – 280
Released – 1st January 2022
ISBN-13 – 978-1685248154
Format – ebook, paperback
Rating – 4 Stars
I received a free copy of this book.
This post contains affiliate links.


Synopsis
In her Fifth Avenue mansion in autumn, 1898, silver heiress Val DeVere learns a third young woman's strangled body has been found nearby in New York's Central Park. The victim could be someone like Val's late mother—or her—for the Valentine Mackle DeVere is one generation from the Irish immigrants who now risk their lives toiling in the city that promised a better life.
Heartsick, Val joins her well-connected husband, Roddy (Roderick Windham DeVere), to press the mayor for action, but scandal-ridden city hall finds little time for the case of "disposable" young women who frequent the park at night.
A maverick police detective urges the DeVeres to help him find the killer, but his "evidence" ensnares a family friend and could send an innocent man to death row. The couple feel on trial when the detective baits them with Roddy's Old New York heritage: "Tell me this, Mr. DeVere…how many more murders before you and Mrs. DeVere cooperate to save the park your forefathers built?"
Murder, Murder, Murder in Gilded Central Park is a charming tale set in New York at the end of the nineteenth century. The story revolves around a comparatively newly-wed couple, Val and Roddy DeVere. (Valentine and Roderick)
Val comes from a poor background. She grew up in the Wild West and didn't have any social niceties until her father struck it rich with a silver mine, and had her educated to be a young lady. Roddy had an East Coast, upper-class upbringing. The pair met and fell in love, his parents, however, were not so enamoured of this unconventional young lady but she did possess the wealth they required for their son.
Roddy has an interest in developing cocktails, and the book is dotted with various cocktail recipes. I cannot make up my mind whether this enhances or detracts from the story as a whole.
The DeVere home in New York is opulent, with servants, and has Central Park on its doorstep. Central Park had seen a couple of murders of young women at night, and other crimes which escalate as the book goes on. As a favour to a family friend, Roddy and Val turn their hand to sleuthing and solving the murders.
The story moves along at a good pace and we meet a stream of interesting characters throughout our journey which has a few surprises installed for us.
I found the references to the history of Central Park very interesting, and this book made me want to visit New York to see it for myself.
Murder, Murder, Murder in Gilded Central Park is a quick and easy read. It is a fantastic historical mystery set in an era I love. It was a very pleasant way to spend a couple of winter afternoons reading.
Purchase Online From:
---
What did you think of 'Murder, Murder, Murder in Gilded Central Park'? Share your thoughts in the comment section below!
---
The above links are affiliate links. I receive a very small percentage from each item you purchase via these links, which is at no extra cost to you. If you are thinking about purchasing the book, please think about using one of the links. All money received goes back into the blog and helps to keep it running. Thank you.
Like us on Facebook – Tweet us on Twitter – Pin us on Pinterest – Join us on Instagram