Tell Me Why by Ruth O'Neill – Book Review
Tell Me Why by Ruth O'Neill – Book Review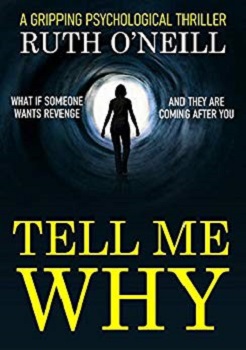 Tell Me Why
Author – Ruth O'Neill
Publisher – lulu.com
Pages – 230
Released – 19th November 2019
ISBN-13 – 978-0244535100
Format – ebook, paperback
Review by – Ed
Rating – 3 Stars
I received a free copy of this book.
This post contains affiliate links.


Lauren Adams is just an ordinary single girl, until one split-second decision throws her life into crisis.
When she meets the handsome and intriguing Max Davies during a girls' weekend away, she can't believe her luck. But it soon turns out to be her biggest mistake. Max gets accused of murder, a murder that allegedly happened on the same night he and Lauren met. Is Max really the man she thinks he is? Is he really innocent of murder? And why does Lauren hear him late at night, building something in the basement – a basement he's made clear is out of bounds?
Tell me why follows a woman who just wants to be loved, but who instead ends up in a tangled web of lies, deceit, and terror. A chilling read you won't stop talking about.

Ruth O'Neill's novel Tell Me Why begins with a man named Kevin attempting a dangerous rescue deep under a house in the basement to save a woman named Lauren Adams. The rescue is left hanging and the plot then flashes back to two years earlier when Lauren goes on vacation with four of her best friends to Butlins holiday park in Minehead, England.
One evening Lauren gets separated from her friends whilst at a nightclub. Lost and trying to find her holiday rental she reluctantly answers a call for help from a stranger, Max Davies, who appears to be trying to help a stabbing victim. When the police arrive, Both Lauren and Max are taken into custody for questioning. The author quickly explains that Max is not all that he seems and that he has wicked designs against Lauren.
The pair begin dating, and Laura quickly falls in love with him. Months later, a warrant for murder is issued for Max. He confesses to the murder after sixteen straight hours of questioning. However, convinced he is innocent Lauren hires a lawyer to defend him and even testifies in court to his innocence. But could her infatuation for Max be misguided and even dangerous?
I think author Ruth O'Neill did an excellent job of developing the psychological thriller storyline and the two main characters, plus she closes out the dark plot fantastically. However, I don't feel the murder trial against Max Davies was well-conceived. I don't want to give away too much but a hung jury would have worked for me given the evidence.
Whilst I did thoroughly enjoyed this book, I am only awarding the book three stars partly due to my feels about the murder trial and partly due to the fact it needs some more editing as parts felt rushed and the writing style felt off in places.
Book Reviewer – Ed
---
Purchase online from:
---
About the Author

Ruth O'Neill grew up in the ancient Roman city of Bath England, a beautiful peaceful city whose locations are often referred to in her first book 'Sunshine & Tears'.
Ruth has always enjoyed helping others and is very committed to her job as a Teaching Assistant where she supports young people with Special Educational Needs & Disabilities.
Her second book `Befriended` is a contemporary thriller. Her new release 'Tell Me Why' is a psychological thriller.

---
What did you think of Tell Me Why? Share your thoughts in the comment section below!
---
The above links are affiliate links. I receive a very small percentage from each item you purchase via these link, which is at no extra cost to you. If you are thinking about purchasing the book, please think about using one of the links. All money received goes back into the blog and helps to keep it running. Thank you.