The Day I Started a Mega Robot Invasion by Tom McLaughlin – Book Review
The Day I Started a Mega Robot Invasion by Tom McLaughlin – Book Review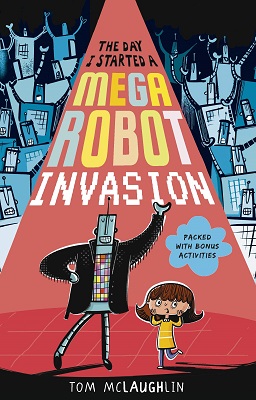 The Day I Started a Mega Robot Invasion
Author – Tom McLaughlin
Publisher – Walker Books
Pages – 176
Released – 2nd January 2020
ISBN-13 – 978-1406389647
Format – ebook, paperback
Review by – Stacey
Rating – 5 Stars
I received a free copy of this book.
This post contains affiliate links.


A nine-year-old inventor is about to have her worst day ever in this laugh-a-minute mega-robot adventure!
Molly should be doing her homework, but instead, she builds a robot to do it for her. The robot is pretty clever … so clever that it decides to make another robot. Then that robot makes another one. Before long, an army of slightly-too-clever-for-their-own-good robots are running around town causing chaos.
But when robot number one gets wind of Molly's plan to shut them down, the mechanical army set out to get rid of the humanoid once and for all. Now, Molly must race against time to stop the mega-robot invasion … and hand in her homework!

Nine-year-old Molly thinks that she is too clever for boring homework such as a geography essay on Oxbow lake. She believes that she is going to be the next big inventor, although most of her inventions up to now have gone wrong.
One afternoon, when her parents go out, Molly is told to do finish her homework before she does anything else. She comes up with a better plan though, she can build herself a robot who can do the homework for her.
Eventually, she creates Bob, but she gave Bob the power to think for himself and has connected him to the internet. Bob doesn't want to do Molly's homework so he has an idea. To build a robot to do it for him. The cycle keeps on going until Molly ends up with an army of robots. Whatever is she to do and will she ever complete her homework?
The Day I Started a Mega Robot Invasion is the fourth book in 'The Day I' series of books by author Tom McLaughlin and the fourth that I have read too. The books are all stupidly funny. Have great plots which are very imaginative and that kids will love and come with plenty of laugh-out-loud moments.
I think a lot of children will be able to understand why Molly created Bob the Robot, as I am sure lots of them find homework boring or tedious and hate doing it, I know I certainly did (Yes, I can remember that far back!!).
As with the other books in the series, the chapters are told in timestamps throughout the day, beginning at 1 pm and moving an hour forward each time. There is also amazing artwork throughout by the author which helps to keep those giggling moments coming.
The Day I Started a Mega Robot Invasion is such a fun book and adds to the already amusing collection of books. These books would be perfect for children who love a book that is filled with amusing and weird moments, or even for a reluctant reader as they do give you a laugh, have short chapters and the artwork is pretty awesome. As well as having activities to keep them occupied at the back of the book too.
Book Reviewer – Stacey
---
Purchase online from:
---
About the Author

I write pictures and doodle words for Bloomsbury, Puffin, Oxford University Press, Simon & Schuster, Scholastic, The Guardian, Disney, Nickelodeon. After leaving art college in '97, I spent nearly 10 years as a political cartoonist for The Western Morning News before going freelance.
I've been published both as a writer and an illustrator for a number of publishers, had my books translated across Europe and South America. Apart from publishing, I've also spent time script writer and a character designer for several animation channels.
I live in Devon, spend most of my days drinking tea and dreaming up new stories.





---
What did you think of The Day I Started a Mega Robot Invasion? Share your thoughts in the comment section below!
---
The above links are affiliate links. I receive a very small percentage from each item you purchase via these link, which is at no extra cost to you. If you are thinking about purchasing the book, please think about using one of the links. All money received goes back into the blog and helps to keep it running. Thank you.