When Sadness Comes to Call by Eva Eland – Book Review
When Sadness Comes to Call by Eva Eland – Book Review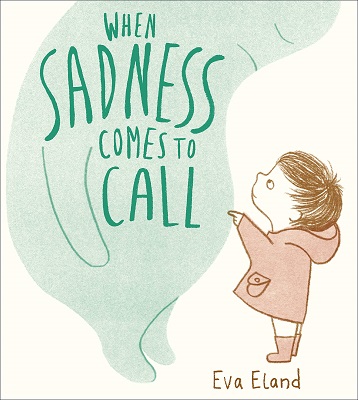 When Sadness Comes to Call
Author – Eva Eland
Publisher – Andersen Press
Pages – 32
Released – 2nd January 2020
ISBN-13 – 978-1783447954
Format – ebook, paperback, hardcover
Review by – Stacey
Rating – 5 Stars
I received a free copy of this book.
This post contains affiliate links.


When Sadness arrives, try not to be afraid: give it a name, listen to it and spend some time together. Maybe all it wants is to know that it's welcome.
This beautiful debut by author-illustrator talent Eva Eland takes a poignant but uplifting look at dealing with sadness.

When Sadness Comes to Call is the first book by Eva Eland in her Big Emotions series. The book teaches young children that sometimes people get sad, even for no apparent reason, and that it is natural to feel that way.
In the story, we meet sadness who is shown as being an aqua green coloured large round jellylike person with slumped shoulders and a down-turned mouth. He arrives at the door of a small child who doesn't know what to do about the sadness.
The plot then shows that you should try to make friends with sadness and maybe do some activities to help it such as listen to music or play outside.
The book has very few words but they leave a powerful message not only for children but I think for adults too, as sometimes we forget that sadness can just come from no-where and stick around for a while.
The illustrations are beautiful and invite the reader into the story. When Sadness Comes to Call would make an amazing bedtime read or even a class read. I can also see it being the start of a conversation about emotions and how they work and why they happen, so be prepared for some tough, but vital questions.
Book Reviewer – Stacey
---
Purchase online from:
---
About the Author
Eva Eland is a Dutch author and illustrator who lives in England. She earned an MA with distinction in children's book illustration from the Cambridge School of Art, and has also studied at the Gerrit Rietveld Academy and the School of Visual Arts in New York.
When Sadness Comes to Call is her first picture book. Eva grew up in Delft, Netherlands, and now lives in Cambridge with her fiancé.





---
What did you think of When Sadness Comes to Call? Share your thoughts in the comment section below!
---
The above links are affiliate links. I receive a very small percentage from each item you purchase via these link, which is at no extra cost to you. If you are thinking about purchasing the book, please think about using one of the links. All money received goes back into the blog and helps to keep it running. Thank you.