The Liar's Daughter by Claire Allan – Book Review
The Liar's Daughter by Claire Allan – Book Review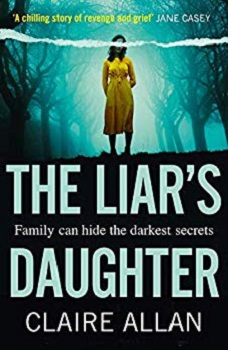 The Liar's Daughter
Author – Claire Allan
Publisher – Avon
Pages – 400
Released – 23rd January 2020
ISBN-13 – 978-0008321949
Format – ebook, paperback, audio
Review by – Stacey
Rating – 4 Stars
I received a free copy of this book.
This post contains affiliate links.


No one deserves to be taken before their time. Do they?
Joe McKee – pillar of the Derry community – is dead. As arrangements are made for the traditional Irish wake, friends and family are left reeling at how cancer could have taken this much-loved man so soon.
But grief is the last thing that Joe's daughter Ciara and step-daughter Heidi feel. For they knew the real Joe – the man who was supposed to protect them and did anything but.
As the mourners gather, the police do too, with doubt being cast over whether Joe's death was due to natural causes. Because the lies that Joe told won't be taken to the grave after all – and the truth gives his daughters the best possible motive for killing him…

Joe McKee has recently been told that he has incurable cancer and roughly 3-6 months left to live. His step-daughter Heidi collects him from the hospital and takes him home. He might be frail but she is still afraid of the man who made her childhood a complete misery. She won't allow him to touch her and she is wondering how you behave towards a person who is dying at yet you truly hate them.
Joe asks Heidi to call his daughter Ciara. She too doesn't have any kind of relationship with her father and dislikes him also. Putting her own emotions to one side she visits him with her partner Stella. Ciara is too waiting for an apology that never comes just like Heidi.
Because of the hard work looking after Joe now he is mainly bedridden, Heidi asks her Aunt Kathleen to come over from England to help look after him. One afternoon with a house full of people Joe dies and is found by Heidi's husband Alex. The undertakers remove his body and as the family is waiting for him to be returned, ready to be laid out before his funeral the police arrive.
They have reason to believe that it wasn't cancer that killed Joe. There are marks on his body and it would seem like he has been asphyxiated, but who hated Joe the most that they were willing to commit murder rather than wait the 3-6 months for him to die naturally?
The Liar's Daughter is a novel about family, past hurts, and hidden secrets. It is told from the points of view of Heidi and Ciara and a few from Joe and in two different timelines, Now and Then. For those of you who read my reviews you will know that multiple POV books are not really my go-to reads and adding in two different timelines I was expecting myself to give up on this book just partway through, but I stuck with it and actually read it in just two sittings.
From the detail in the synopsis I expected Joe to die earlier in the book than he did at 25% of the way through, but it was good to hear some chapters in his own words. He was a nasty man to his girls and yet the people outside of his house thought he was a lovely man and adored him. I've known a couple of people just like this so it was perfectly realistic to me.
The characters were well developed and the plot kept me guessing as to which person wanted Joe dead the most. The main setting of the book is Joe's house and there are plenty of conversations between all of the characters which help you to analyse them if you are trying to work out the culprit.
The subjects covered in the book were done very sensitively and handled well. The Liar's Daughter is the first book by author Claire Allan that I have read and her writing style, including short snappy chapters, kept this book moving along at a nice pace. I now look forward to reading more from her in the future.
Book Reviewer – Stacey
---
Purchase online from:
---
About the Author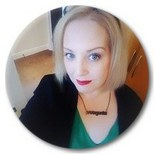 Claire Allan is a Northern Irish author who lives in Derry~Londonderry. She worked as a staff reporter for the Derry Journal for 17 years, covering a wide array of stories from court sessions, to the Saville Inquiry into the events of Bloody Sunday, health and education and human interest features.
She wrote her first novel in 2006, to mark her 30th birthday and it (Rainy Days and Tuesdays) was subsequently published and became an instant bestseller in 2007.
Claire wrote seven further women's fiction novels between 2007 and 2015. In 2016 (when she turned 40) she decided to change genre and try her had at domestic noir. Her first domestic noir novel, Her Name Was Rose was published by Avon/ HarperCollins in 2018 and became a bestseller in the UK, Canada, Australia and was a USA Today bestseller. It was subsequently nominated in the Dead Good Reader Awards in 2019.
Claire has followed up on the success of Her Name Was Rose with Apple of My Eye and Forget Me Not. Her next novel, The Liar's Daughter, published in January 2020.
She is working on a fifth psychological thriller at present. Claire still lives in Derry with her husband, two children, two cats and a very spoiled puppy.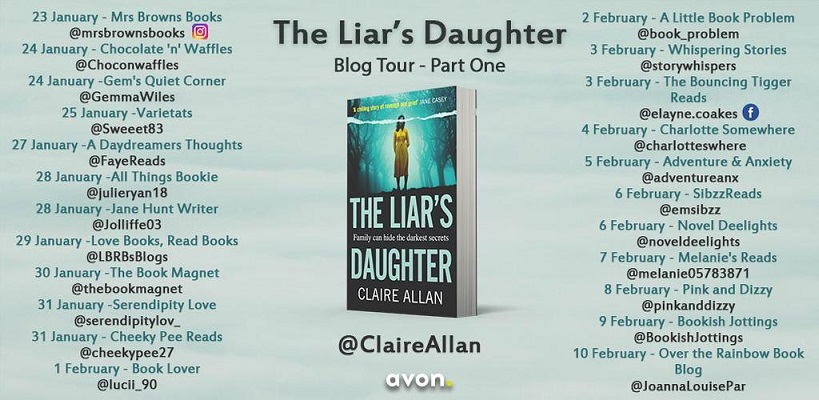 ---
What did you think of The Liar's Daughter? Share your thoughts in the comment section below!
---
The above links are affiliate links. I receive a very small percentage from each item you purchase via these link, which is at no extra cost to you. If you are thinking about purchasing the book, please think about using one of the links. All money received goes back into the blog and helps to keep it running. Thank you.
Like us on Facebook – Tweet us on Twitter – Pin us on Pinterest