The Beast and the Bethany by Jack Meggitt-Phillips – Book Review
The Beast and the Bethany by Jack Meggitt-Phillips – Book Review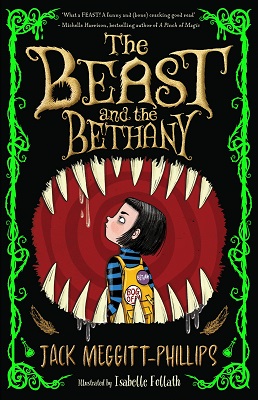 The Beast and the Bethany
Author – Jack Meggitt-Phillips
Illustrator – Isabelle Follath
Publisher – Egmont
Pages – 256
Released – 1st October 2020
ISBN-13 – 978-1405298889
Format – ebook, paperback, audio
Review by – Stacey
Rating – 5 Stars
I received a free copy of this book.
This post contains affiliate links.


Ebenezer Tweezer is a youthful 511-year-old. He keeps a beast in the attic of his mansion, who he feeds all manner of things (including performing monkeys, his pet cat and the occasional cactus) and in return the beast vomits out presents for Ebenezer, as well as potions which keep him young and beautiful.
But the beast grows ever greedier, and soon only a nice, juicy child will do. So when Ebenezer encounters orphan Bethany, it seems like (everlasting) life will go on as normal. But Bethany is not your average orphan . . .

511-year-old Ebenezer Tweezer lives in a 15 storey house with a beast living on the top floor. The beast started as a small creature but over the years he mithered Ebenezer to bring him food in exchange for gifts which he would vomit up, plus he also provides him with a special potion to keep him looking young. The food the beast wanted kept on getting bigger and bigger until he demands that Ebenezer brings him a child to eat.
Ebenezer doesn't know where to get a child from and quite frankly he doesn't really want to feed one to the beast but the beast refuses to provide Ebenezer with his potion for this year unless he brings him a child.
After talking to the man who owns the bird shop where he has been purchasing birds from to feed the beast, he suggests Ebenezer try the local orphanage. This is where he meets and takes home naughty, sarcastic, trickster Bethany. But the beast wants her fattening up before he will eat her, and so Ebenezer is to spend the next few days making her eat all manner of delicious food whilst having to put up with her ill-behaviour and attitude.
But will the beast get his juicy meal or is naughty Bethany just a little too clever for him?
What a fun, hilarious book The Beast and the Bethany is. I adored the whole plot from beginning to end, including the section at the back title 'The Beast and the Author'.
Ebenezer is a delightful character that over his 511 years alive has forgotten how to live. Yes, he can ask the beast for all kinds of things that would make him happy but he doesn't have anyone for company and lives alone in his big house with a horrible beast that always wants more. It reminded me of Audrey II from Little Shop of Horror, with the 'Feed Me' 🙂 The more it was fed the bigger it got and the more it wanted.
Bethany was an orphan whose parents had died in a fire when she was a baby. She was so young that she doesn't actually remember them. She too feels alone and as such spends her time being horrible to the others at the orphanage and playing tricks on the staff to make herself feel good and noticed. The owner is glad to see the back of Bethany but also worried that she will be brought back quickly like every other time someone has come to adopt her.
The storyline is pure enjoyment and the illustrations that are dotted through the book are wonderful to look at. This is a truly amazing middle-grade story. It is very imaginative and I now can't wait to see it continue as it certainly has been left open for a sequel.
Book Reviewer – Stacey
---
Purchase online from:
---
About the Author

Jack Meggitt Phillips is an incredibly exciting new talent. He is an author, scriptwriter and playwright whose work has been performed at The Roundhouse and featured on Radio 4. He is scriptwriter and presenter of The History of Advertising podcast.
In his mind, Jack is an enormously talented ballroom dancer, however his enthusiasm far surpasses his actual talent. Jack lives in north London where he spends most of his time drinking peculiar teas and reading PG Wodehouse novels.


---
What did you think of The Beast and the Bethany? Share your thoughts in the comment section below!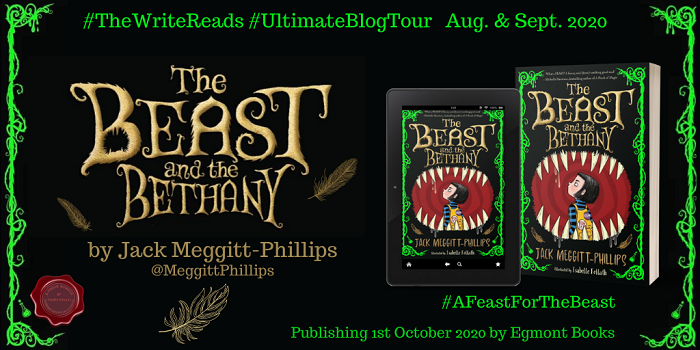 ---
The above links are affiliate links. I receive a very small percentage from each item you purchase via these link, which is at no extra cost to you. If you are thinking about purchasing the book, please think about using one of the links. All money received goes back into the blog and helps to keep it running. Thank you.
Like us on Facebook – Tweet us on Twitter – Pin us on Pinterest