Come Sundown by Nora Roberts – Book Review
Come Sundown by Nora Roberts – Book Review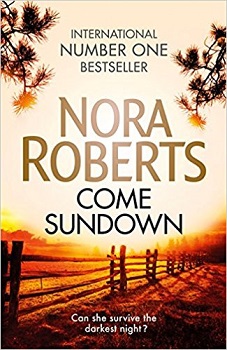 Come Sundown
Author – Nora Roberts
Publisher – Piatkus
Pages – 480
Release Date – 30th May 2017
ISBN-13 – 978-0349410906
Format – ebook, paperback, hardcover, audio
Reviewer – Stacey
I received a free copy of this book
Post Contains Affiliate Links

Love. Lies. Murder. A lot can happen… COME SUNDOWN
Bodine Longbow loves to rise with the dawn. As the manager of her family's resort in Western Montana, there just aren't enough hours in the day – for life, for work, for loved ones. She certainly doesn't have time for love, not even in the gorgeous shape of her childhood crush Callen Skinner, all grown up and returned to the ranch. Then again, maybe Callen can change her mind, given time…
But when a young woman's body is discovered on resort land, everything changes. Callen falls under the suspicion of a deputy sheriff with a grudge. And for Bodine's family, the murder is a shocking reminder of an old loss. Twenty-five years ago, Bodine's Aunt Alice vanished, never to be heard of again. Could this new tragedy be connected to Alice's mysterious disappearance?
As events take a dramatic and deadly turn, Bodine and Callen must race to uncover the truth – before the sun sets on their future together.

On a cold, snowy day in 1991 Alice Bodine decided to return home, after upping and leaving three years earlier. Making a decision between cutting across the wildness in the snow, or going the longer way round, Alice decided to stick to the road, which seemed like the safer option of the two. How wrong could Alice have been?
Back in present-day Montana, Bodine Longbow (Alice's niece), is the manager of her family's, four-generation run holiday ranch. She is hard-working and has little time for herself. So when an ex-lover, Callum, comes back into her life, taking up work on the ranch, she decides she doesn't have time for a relationships.
At the same time as Callum re-appears, women start being murdered. Is this just a coincidence or is Callum involved? Events take an even darker twist when Alice suddenly makes an appearance in a distressed state, 25 years after she disappeared.
Firstly time for a confession. Although I have known about Nora Robert's work for a long time, this is the first book that I have read by her, and I can assure you, it won't be the last.
This book is dark, sinister at times. There are some brutal scenes, and horrifying events, especially regarding Alice, who has been kept as a slave/baby-maker for the last 25 years, repeatedly battered, and raped by her captor.
We as readers are taken back and forth between Alice's horrific world and present-day Montana. The characters, and there are quite a few of them, are all well thought out, and wonderfully-constructed. The family has such a strong bond between them, that it's hard not to like each and everyone of them.
There are some lighter, more at ease scenes, including a few romances and fun events occurring between the family members, so it's not all heart-wrenching.
I love a good book that absorbs me into the plot and hooks me to the page, gets my pulse racing, and my emotions in a tither. This book did all of those things.
Ms. Roberts keeps us guessing as to what is going to happen next. With plenty of twists, turns and mystery, Come Sundown is a definite 2017 must-read.
Book reviewed by Stacey
Purchase Links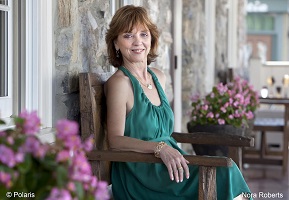 Nora Roberts is the number one New York Times bestseller of more than 200 novels. With over 500 million copies of her books in print, she is indisputably one of the most celebrated and popular writers in the world.
She is a Sunday Times hardback bestseller writing as both Nora Roberts and J.D. Robb.
Author Links
www.noraroberts.com
Facebook
Goodreads