The Writing Life of: Martine McDonagh
Martine McDonagh
This week on 'The Writing Life of:' I am thrilled to be interviewing author Martine McDonagh. Martine will be sharing with us detail of her writing life, telling us all about her latest book 'Narcissism for Beginners', which was released on 9th March 2017, and answering a few fun questions too.
So without further ado I'll hand you over to Martine. Post contains affiliate links.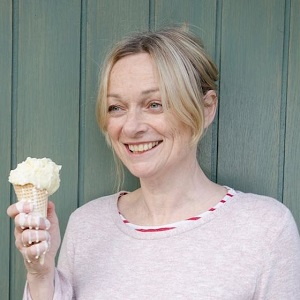 Martine worked for thirty years as an artist manager in the music industry, managing bands including James for whom she also designed their famous daisy logo.
She is currently Programme Leader on the MA Creative Writing & Publishing at West Dean College in Sussex.
---
1) As a child what did you want to do when you grew up?
It varied. When I was about eight I wanted to be a writer, then a travel writer. I would also have liked to be a singer, without particularly having the talent. By the time I got to the age where I needed to make a few decisions, I'd run out of ideas or at least didn't have the confidence to do want I really wanted and drifted along for a while until I came back to writing.
2) Who were your favourite childhood authors?
Enid Blyton and Agatha Christie.
3) At what point in your life did you realise you wanted to be a writer?
I realised it again more seriously in my twenties, when all I seemed to want to do was write and read.
4) How did you go about following that dream?
When my son reached school age, I gave up my job and went to university with a plan to take my writing a bit further, while having no idea whether I wanted to write plays, screenplays, poetry or short stories. I was sure I wouldn't be able to write a novel.
While I was there, I took a number of short courses and by the time I finished my degree, I'd decided to continue on to a Masters and write a novel.
5) What is your writing day like? Do you aim for a certain amount of pages or words before you stop for the day?
When I'm writing a first draft, I seem to have a natural limit of around 1000-1500 words a day. When I'm redrafting or editing I can work for a lot longer.
6) Did you ever consider writing under a pseudonym?
Yes, and I'd still like to. I don't think my name is particularly well-suited to being remembered, correctly spelled or properly pronounced. In fact, after living with it for so long, I know it isn't.
7) Do you have any strange habits before starting, or whilst in the midst of writing?
Probably, but they're not strange to me…I can't sit still for more than 20 minutes so I'm always faffing around, but it's all part of the process…or at least that's what I tell myself.
8) Do you write longhand, typewriter, or on a computer?
I always write a first draft in longhand and then put it all on the computer, but I'm planning to get a typewriter for that second stage and delay working at a computer a bit longer because I am really fed up with sitting and staring at screens.
9) How many books have you written? Do you have any unpublished work?
I have loads of unpublished work. Narcissism for Beginners is my third published novel, plus I have a novel that I shelved a few years ago and plan to look at again this year. I also have loads of scraps of short stories and flash fiction knocking around. I have a couple of dodgy screenplays in boxes too.
10) Are you a plotter or a pantser?
Both. I always plot things out, but always with the knowledge that it'll all keep changing. Having a skeleton of a plot written or drawn out in some form or another is like having scaffolding to mark out the space where the story will be.
There's nothing more fun than going off in an unexpected direction, but the scaffolding will help to identify when it's too far off-piste.
11) Do you read all the reviews left for your book(s)?
I think I've probably read most of the reviews I've received. It's highly unrealistic to expect that a novel is going to be everyone's cup of tea, but I would hope that anyone who picks it up to read it is at least doing it thinking it might be a good read.
Negative criticism is a fact of life for any artist and I think it's best to be interested in it first and then take it on board or reject it as appropriate. Once a book's published there's not a lot to be done anyway so best to listen then move on.
Concerning your latest book: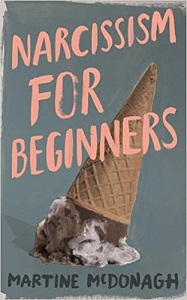 Narcissism for Beginners
Author – Martine McDonagh
Publisher – Unbound
Pages – 208
Release Date – 9th March 2017
ISBN 13 – 978-1783523443
Format – ebook, hardcover

Meet Sonny Anderson as he tips headlong into adulthood. Sonny doesn't remember his mother's face; he was kidnapped at age five by his father, Guru Bim, and taken to live in a commune in Brazil. Since the age of ten, Sonny has lived in Redondo Beach, California, with his guardian Thomas Hardiker. Brits think he's an American, Americans think he's a Brit.
When he turns 21, Sonny musters the courage to travel alone to the UK in an attempt to leave a troubled past behind, reunite with his mother and finally learn the truth about his childhood. With a list of people to visit, a whole lot of attitude and five mysterious letters from his guardian, Sonny sets out to learn the truth. But is it a truth he wants to hear?

12) How long did it take you to get from the idea's stage to your date of publication?
Well, I first had the idea to write a novel about a narcissistic guru character five or six years ago and wrote a first draft, but by the end of that I'd realised that narcissistic characters are not all that interesting in their own right because they're not particularly three-dimensional.
What was, and still is, interesting to me is the effect these characters have on the people around them and so I decided to redraft telling the story from a different point of view.
It was another couple of years before I could do that, but once I got going the whole process from start to publication was just over two years.
13) How did you come up with the names for your characters?
This is a boring answer, but they just seemed to come out of the story. Names are important though, in that they have to fit the character's generation, cultural background and so on. And of course names usually have some kind of subjective resonance for the writer, which effects the choice, but not necessarily the reader's response.
14) Can you give us an insight into your main character(s) life?, What makes them tick?
My main character, Sonny, has some difficulty ticking, in that he has suffered from various neuroses and obsessions and the story is about him investigating why he is the way he is.
15) Which was your hardest scene to write?
I can't think of any one scene in particular that was harder to write than the others, but some of the earlier flashback scenes were tricky in getting the balance of information right to keep the reader reading.
16) How did you come up with the title of your book?
A very long drawn-out process! It started off as The Adventures of Guru Bim, then The Grace of Guru Bim, then The Making of Me, then Things We Can't Undo, until finally my copy editor, Linda McQueen suggested Narcissism for Beginners and it just seemed to hit the right note.
17) Did you get a family member/friend to read your work before sending to the publishers?
Yes, I had a few people whose opinions I trust read it at second or third draft stage. I'd never let anyone read a first draft.
18) What process did you go through to get your book published?
I'm publishing this time through Unbound, a crowdfunding publisher. As I'd parted company with my agent and couldn't face the time-consuming and potentially fruitless process of trying to replace them, I researched the handful of UK publishers who will accept direct submissions from authors.
The submissions process with Unbound is the same as any other publisher in that the manuscript goes out to one of their readers and they either recommend it for publication or not. Once it's been accepted, the author has to crowdfund the cost of production and once that process is complete, Unbound behaves just as any other good publisher does.
19) What did you do once you had written the final word in your book?
Well, by the time NfB went into production I was already writing the second draft of the next one, which is a sequel to NfB, set when Sonny is in his mid-forties. I probably put the kettle on.
20) What's next for you, writing-wise?
I'm still working on the sequel to NfB, but have also started researching the one to come afterwards, which I'm too superstitious to talk about yet.
1) What's your favourite food?
I'm not sure it qualifies as food and as answers to this question goes, is probably quite predictable…chocolate. Or roast potatoes.
2) If you had a box of crayons and you could only choose one, which colour would you choose?
Not yellow.
3) What movie could you watch over and over again?
I'm afraid to say there are lots of films I've watched over and over: Hitchcock's Rear Window, Groundhog Day (which I only watch once a year now on 2nd February), Lars and the Real Girl. Since December, I've seen La La Land five times.
4) What would be the top song on your playlist?
This probably changes on a daily basis. Today it would be The Arrow and the Aim from the album Preservation by Nadia Reid.
5) If you won, what would be your first purchase?
Time. And a brace for my bottom teeth.
6) A talking duck walks into your room wearing a baseball cap and sunglasses, what's the first thing he says to you?
"What's for tea?"
You can find out more about Martine by visiting the website/social media sites below.
www.martinemcdonagh.com
@MartineM_Writer
Facebook
Instagram
Goodreads
I would like to say a big thank you to Martine for sharing with us details of her writing life, and for a wonderful interview.