The Time Machine by H.G. Wells – Book Review
The Time Machine by H.G. Wells – Book Review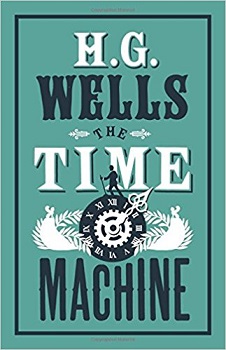 The Time Machine
Author – H.G. Wells
Publisher – Alma Classics
Pages – 160
Release Date – 23rd March 2017
ISBN-13 – 978-1847496270
Format – paperback
Reviewer – Clive
I received a free copy of this book
Post Contains Affiliate Links

A Victorian scientist and inventor creates a machine for propelling himself through time, and voyages to the year AD 802701, where he discovers a race of humanoids called the Eloi.
Their gently indolent way of life, set in a decaying city scape, leads the scientist to believe that they are the remnants of a once great civilization. He is forced to revise this assessment when he comes across the cave dwellings of threatening apelike creatures known as Morlocks, whose dark underground world he must explore to discover the terrible secrets of this fractured society, and the means of getting back to his own time.
A biting critique of class and social equality as well as an innovative and much imitated piece of science fiction which introduced the idea of time travel into the popular consciousness, The Time Machine is a profound and extraordinarily prescient novel.

The Time Machine was H.G. Wells' first published novel and it was a development of his previous story The Chronic Argonauts which was first aired in the Science School Journal that he edited as an undergraduate. To me the writing lacked the colourful grammar and language of his later works and at 107 pages it is definitely on the brief side.
At the time H.G. was fascinated by anything scientific and by socialist politics; this storyline gave him an opportunity to include his comments on both.
Since then there have been countless works about time travel but at the time the concept was quite novel. To modern readers his design of a time machine seems rather ridiculous with the traveller seated in the open, exposed to the weather and other physical danger. The science behind it is very weak but as no one has since managed to find a way to travel through time who can say whether he was right or wrong.
The Time Machine gave me a pleasurable read and if you have not yet read The Time Traveller you should take advantage of this Alma Classic publication to do so. I have awarded three stars.
Book reviewed by Clive
Purchase Links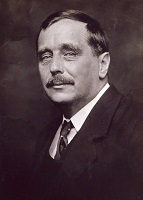 Herbert George Wells was born in Bromley, Kent, England, on September 21, 1866. His father was a professional cricketer and sometime shopkeeper, his mother a former lady's maid. Although "Bertie" left school at fourteen to become a draper's apprentice (a life he detested), he later won a scholarship to the Normal School of Science in London, where he studied with the famous Thomas Henry Huxley. He began to sell articles and short stories regularly in 1893.
In 1895, his immediately successful novel rescued him from a life of penury on a schoolteacher's salary. His other "scientific romances" – The Island of Dr. Moreau (1896), The Invisible Man (1897), The War of the Worlds (1898), The First Men in the Moon (1901), and The War in the Air (1908) – won him distinction as the father of science fiction.
Henry James saw in Wells the most gifted writer of the age, but Wells, having coined the phrase "the war that will end war" to describe World War I, became increasingly disillusioned and focused his attention on educating mankind with his bestselling Outline of History (1920) and his later utopian works. Living until 1946, Wells witnessed a world more terrible than any of his imaginative visions, and he bitterly observed: "Reality has taken a leaf from my book and set itself to supercede me."