The Woolly Hat Knitting Club by Poppy Dolan – Book Review
The Woolly Hat Knitting Club by Poppy Dolan – Book Review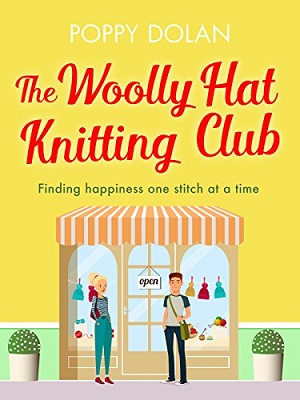 The Woolly Hat Knitting Club
Author – Poppy Dolan
Publisher – Canelo
Pages – 264
Released – 25th September 2017
Format – ebook
Reviewer – Stacey
I received a free copy of this book
Post contains affiliate links.
Finding happiness one stitch at a time
When Dee Blackthorn's brother, JP, breaks both wrists not only is he in need of a helping hand – or two – but the knitting shop he owns can't function. Sisterly duties take Dee away from her demanding job and she is unceremoniously fired amidst scandalous office rumours. Dee is certain that her hot-shot nemesis, Ben, is behind it all.
Back in the village of Fenwild where JP's shop resides, Dee bumps into Becky, an old friend who is new mum to a premature baby. Desperate to help Becky, Dee convinces JP to enlist his knitting pals to make tiny woolly hats to keep the little one warm. Seeing how grateful her friend is, Dee makes it her mission to help lots of other premature babies. When Ben turns up denying involvement in Dee's sacking she is initially furious, but hears him out before roping him into helping the knitting cause.
But before long Dee's good intentions backfire and she risks losing her friends, her family and Ben, who's turned out to be not so bad after all…
Review
Delilah (Dee) gave her heart and soul to her high-powered city job. During a crucial meeting, she received a text from her brother Julian (JP) telling her to 'come'. Rushing off she headed to the family home in the village of Fenwild, where she discovered her brother with two broken wrists.
JP is a knitting expert, who runs the local haberdashery, co-owned by Dee and himself. He is also a Blogger/Vlogger too at 'About a (Knitting) Boy'. When Dee bumped into an old friend, who had just had a premature baby, JP would of loved to of made her something. He did have an idea though, ask his followers to knit her some premature baby hats instead. The idea took off and a knitathon for premature babies came to life.
On her return to work Dee gets fired. Needing a job desperately she phoned numerous friends and agencies, but no-one wanted anything to do with her. False rumours had been circulated and she was certain she knew who the culprit was, ex-colleague Ben. Is he really to blame though?
I'm not into crafting, I learnt to knit when I was a teenager and there are a few booties around in our family made by my fair hands, but that is as good as it ever got. The idea of a group of people coming together and helping to make hats for premature babies is beautiful, and I bet that there are people up and down the country who do that very same thing.
The book is more than just about knitting though. There are numerous secondary plots running through the story too, all captivating and worked seamlessly alongside one another. The characters are all relatable. None are perfect, each had their own voice, and for me this made them very realistic.
The book was an utter joy to read, one I could just switch off from the real world and settle into a world where knitting was king. I was held to the pages of this heart-warming story. Not only is it a beautiful read, but it is poignant too. I'm glad that Dee finally understood that there is more to life than just work.
Reviewed by Stacey
---
About the Author

Poppy Dolan is in her mid thirties and lives in Berkshire with her husband. She's a near-obsessive baker and a keen crafter, so on a typical weekend can be found moving between the haberdashery and kitchenware floors of a department store, adding to her birthday wish list.
She has written Four novels: The Bad Boyfriends Bootcamp, There's More to Life than Cupcakes, The Bluebell Bunting Society, and most recently The Woolly Hat Knitting Club. The Bad Boyfriends Bootcamp made it into the Amazon top 100 bestseller chart, so clearly someone other than her mum must have read it.





---