Return to Whitechapel by Dean Jacobs – Book Review
Return to Whitechapel by Dean Jacobs – Book Review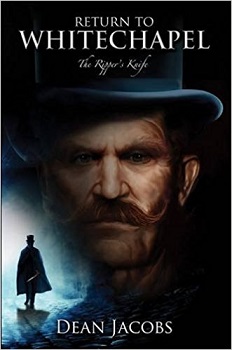 Return to Whitechapel


The Ripper's Knife
Author – Dean Jacobs
Publisher – Austin Macauley
Pages – 158
Release Date – 29th July 2016
ISBN-13 – 978-1786121851
Format – ebook, paperback, hardcover
Reviewer – Stacey
I received a free copy of this book
Post Contains Affiliate Links

You know, Mr Collins, I think our elusive Ripper's quarrel is not with the lower class females of Whitechapel… it is with you.'
Whitechapel, London, 1889: James Collins reflects on his tragically intimate relationship with the Jack the Ripper' killings the previous autumn and, longing to escape, takes a boat to France. He begins a new life in Paris under the tutelage of the distinguished criminologist Alex Lacassagne and his intelligent and beautiful daughter Lena.
James thrives in his new life, finding a sense of purpose as a consulting detective. But Whitechapel has a way of drawing him back to the horrors he hoped he had left behind.
Dean Jacobs' well-researched, pacey and intriguing variation on the Jack the Ripper legend is enhanced by 14 full-page, full-colour illustrations by the author.

Return to Whitechapel, is the story of Jack the Ripper, told by the very man himself. The prologue gives you an indication of who the murderer really was, written by the killer some 50 years after the atrocities.
James Collins is Jack the Ripper, in a Jekyll and Hyde sense of the word. James tried for so long not to let the monster loose, but Jack always won. He tried to keep Jack a secret, trouble was – 'Secrets always come out…in the end'.
Dean Jacobs has written a fictional story, based on the real life events of Jack the Ripper. He has cleverly pieced together fact and fiction, and come up with his own idea of who would be capable of such vile acts. He has used his research into the killer to tell a story of a man possessed, a normal man, with a murderer lurking beneath the surface.
Throughout the book there are many works of art, from pictures featuring the scenes, to newspaper cuttings. You don't find many novel that include artwork, but these images work well with this story and add to the enjoyment.
I love books set in the Victorian age, although other periods of history don't interest me. This book was perfect for me, as not only do I love books from this period, but Jack the Ripper fascinates me too. How could one man of brutally killed these women, yet never be caught.
The tension builds throughout, as you get to read about James past, his travels to London from Ireland, and the women he killed. All this sets the scene for such a brilliantly crafted ending.
If you like books about the infamous 1888 murderer, then Return to Whitechapel will be a perfect read for you.
Book reviewed by Stacey
Purchase Links


Dean Jacobs studied computer-based Art and Design at University in 2002 and minored in Creative Writing. He has written and illustrated 9 children's picture books since 2006 and his first novel, The Streets of Whitechapel was written in 2011.
The sequel, Return to Whitechapel: The Ripper's Knife is the culmination of a three year doctoral study into the Victorian serial killer, Jack the Ripper.
Author Links