The Returning Tide by Liz Fenwick – Book Review
The Returning Tide by Liz Fenwick – Book Review
The Returning Tide
Author – Liz Fenwick
Publisher – Orion
Pages – 416
Release Date – 29th June 2017
ISBN-13 – 978-1409162117
Format – ebook, paperback, hardcover, audio
Reviewer – Julie
I received a free copy of this book
This post contains affiliate links

Two sisters and one betrayal that will carry across generations . . .
In wartime Cornwall, 1943, a story between two sisters begins – the story of Adele and Amelia, and the heart-breaking betrayal that will divide them forever. Decades later, the effects of one reckless act still echo – but how long will it be until their past returns?

'The Returning Tide' is the latest novel from American-born Cornish-based author, Liz Fenwick. It is a story which spans both the generations and the Atlantic.
The bitter-sweet tale moves between the 1940s and 2016 and we see the action from the perspectives of Adele in the first person and Lara in the third person. Whilst the complex narrative must have been extremely difficult to write, the plot itself is fairly simple and not entirely original.
Fenwick has a graceful and fluid writing style which draws her readers into her backdrops prior to placing her characters carefully into each scene. Adele is a confident, multi-faceted lady who on the surface has enjoyed the benefits of a strong marriage and has a loving family around her. However we know that she is plagued by painful ghosts from the past who will never leave her in peace.
The author explores a range of human emotions; loyalty and love to betrayal and ultimately, hate. Adele's torment and her inability to forgive and forget, has haunted her for years and it made for rather uncomfortable reading at times. We witness a scene at the beginning which confirms a happy ending will elude Adele, so it is with a sense of foreboding that we watch as her wartime relationship unfolds.
At 467 pages, this novel is quite long but it did enable the author to develop her characters and play to her strengths. She clearly delighted in being able to weave her mother-in-law's work as a WWII Wren telegraphist into her story and undoubtedly, this was a well-researched labour of love.
Fenwick is a consummate professional and this story is very well-written. Whilst the revelations from the past are harrowing, there is rather a nice tidy ending which did lighten the mood. I think this work will appeal to anyone who enjoys family sagas. If you're looking for a gritty tale full of raw emotion, you won't be disappointed.
I award 'The Returning Tide' four-and-a half stars.
Book reviewed by Julie
Purchase Links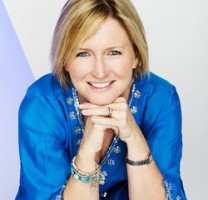 I was born in Massachusetts and after nine international moves I'm back in the United Kingdom with my husband and a mad cat.
I made my first trip to Cornwall in 1989 and bought my home there seven years later. My heart is forever in Cornwall, creating new stories.
Author Links