The Cutaway by Christina Kovac – Book Review
The Cutaway by Christina Kovac – Book Review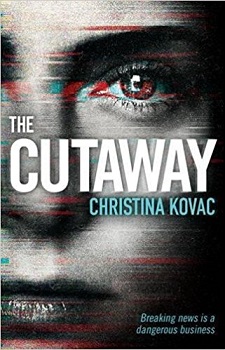 The Cutaway
Author – Christina Kovac
Publisher – Serpent's Tail
Pages – 320
Release Date – 6th April 2017
ISBN-13 – 978-1781258828
Format – ebook, paperback, hardcover, audio
Reviewer – Stacey
I received a free copy of this book
Contains Affiliate Links

It begins with someone else's story. The story of a woman who leaves a busy restaurant and disappears completely into the chilly spring night. Evelyn Carney is missing – but where did she go? Who was she meeting? And why did she take a weapon with her when she went?
When brilliant TV producer Virginia Knightley finds Evelyn's missing person report on her desk, she becomes obsessed with finding out what happened that night. But her pursuit of the truth draws her deep into the power struggles and lies of Washington DC's elite – to face old demons and new enemies.
A slick, gripping thriller that moves at the pace of breaking news, The Cutaway will keep your heart hammering until the final page.

Set in the backdrop of Washington DC, and combines politics with the cut-throat business of nightly news coverage. TV executive producer Virginia Knightly is investigating the disappearance of Evelyn Carney, a recent law school graduate, working for a prestigious firm.
On the night in question, Evelyn had dinner out with her husband before leaving alone, after asking him for a divorce. She had received a text to meet someone, but never turned up. Although this was labelled just a missing person case, Virginia felt that more was a play.
Virginia is determined to find Evelyn, whether dead or alive. With evidence pointing to an affair with a politician, could she have left her husband and disappeared with her lover? With no activity on her bank account, credit cards, or mobile phone, Virginia believes the latter could have happened to her.
The question is, if Evelyn has been killed, or kidnapped, who would want to do something to a likeable young woman, and why? As the investigation intensifies, Virginia becomes more and more determined to solve the case, even if that means risking her own life in the process.
The Cutaway, is a thriller mixing politics, an in-depth missing persons investigation, and a determination to get exclusives for the nightly news show.
Virginia is a ruthless character. She knows what she wants, and once she has set her mind on something there is no stopping her. She doesn't understand why she feels compelled to discover what happened to Evelyn, only that she can't get her out of her head.
The book centres mainly on Virginia and her news team, anchor-man Ben, and cameraman Isiah. But with falling ratings at the station, its not long before Virginia is given a demotion. But that just makes her more determined than ever. She needs all the exclusives on the case that she can get, and with her ex-boyfriend, Commander Michael Ledger leading the investigation, exclusives are not hard to come by.
The story has a few secondary plots running alongside the main disappearance investigation. One of those is that the news channel is in trouble, financially, as viewer rates are dropping. This means that cuts are being made. Nick Mellay, the station boss is a nasty piece of work, and I can understand, slightly, why the author felt the need to add this information, I just didn't care for it. It added nothing to the story, which would have worked just as well without it, and to be brutally honest, Mellay annoyed the hell out of me!
It felt like, with the missing person case, the news channel in trouble, men issues, and her dad wanting a reunion after many years of being missing from her life, there were just too many things going on for Virginia, and these issues slowed down the pace of the book. A thriller needs a good pace throughout, otherwise the tension drops. Less is sometimes more, as the saying goes.
The whole book is exceptionally believable, and you can tell that Ms. Kovac used to work managing newsrooms, producing crime and politics cases. When I read that Ms. Kovac was had worked on the case of missing DC intern Chandra Levy, and having read up on the case, I realised that there were a lot of similarities between 'The Cutaway', and the true-life missing persons case. This didn't spoil my enjoyment, though it did give me a big clue as to what had happened to Evelyn.
The book is gripping, it has you eager to know more, and a desire to stand shoulder to shoulder with Virginia, and work the case alongside her. It is a brilliant read, with plenty of twists and turns to keep you guessing whether Evelyn is dead or alive. Plus it has an ending that I certainly didn't predict. Ms. Kovac certainly knows how to keep her audience guessing.
Book reviewed by Stacey
Purchase Links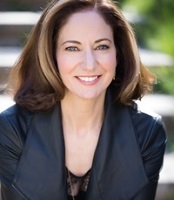 Christina Kovac writes psychological thrillers set in Washington, DC. The Cutaway is her debut novel.
Prior to writing fiction, Christina Kovac worked in television news. Her career began with a college internship at Fox 5's Ten O'Clock News in DC that turned into a field-producing job—making minimum wage while chasing news stories, gossiping with press officers, and cultivating sources—while somehow making rent on a closet-sized apartment on Capitol Hill. After a stint as weekend editor at WRC TV and senior editor at the ABC affiliate, she went on to work at the Washington Bureau of NBC Network News, as a desk editor and news producer in such stories as that of missing DC intern, Chandra Levy.
After being late to pick up her kids at daycare one too many times, she left television to start a writing career. She lives in suburban Maryland with her family, a husband, two kids, a gimpy dog and noisy cat. She loves reading crime fiction and hanging out in bookstores and going for long walks to work out plot problems. She's not fully human until she's read the morning newspapers while gulping down a ritual six cups of half-caff (so, it's kind of like only three cups?) Her most fervent belief is that baseball's Opening Day should be a national holiday.
She's currently at work on her second novel.
Author Links
www.christinakovac.com
@christina_kovac
Facebook
Instagram
Goodreads