Spine Chillers by Q.L. Pearce – Book Review
Spine Chillers by Q.L. Pearce – Book Review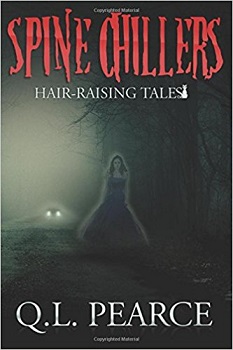 Spine Chillers


Hair-Raising Tales Book One
Author – Q.L. Pearce
Publisher – Createspace
Pages – 106
Release Date – 30th November 2016
ISBN-13 – 978-1539953296
Format – paperback
Reviewer – Nia
I received a free copy of this book
Contains Affiliate Links

The town of Saltlick Bluff is famous for an urban legend. Does the spirit of a young girl wait on a misty cliff-hugging highway for her ride to the prom?
In the house on Beech Street a terrible tragedy occurred. Now neighbors won't look at the place as they pass. Those who live nearby draw their blinds and shutter their windows after dark. What are they afraid of?
Hale Hallow Woods seems sinister and menacing even in the light of day. Does a thirst for revenge beat near its dark heart? The answers lie within these pages, just waiting to send a chill up your spine!

This is a good little collection of horror short stories for YA readers, it's not quite as gruesome as the horror that I usually read but I recognised early on that it's the kind of thing that I would have loved during my Goosebumps phase (circa 8-13).
The stories are action packed and contain numerous characters for short stories, so it was a little hard to keep track to begin with until I realised that it didn't really matter and to just roll with it. The stories are written in a really simple but enjoyable style, and cover both traditional ghost story themes and some more creative and original things.
My favourite story has to be about the little girl and her cat. I can't tell you any more than that without giving the game away but it had a devious ending that had me grinning like a lunatic (because who doesn't love an unhappily-ever-after?). After a story about a typical ghost haunting, this story took me completely by surprise which is no small feat these days!
There is a little bit of violence in some of these stories but nothing graphic, I would consider it to be around the same level of horror that you would find in Goosebumps books which are recommended by the publisher for ages 9-12. If you have a twisted tyke who'd enjoy something a little bit different, I would suggest you give Spine Chillers a go!
Book reviewed by Nia
Purchase Links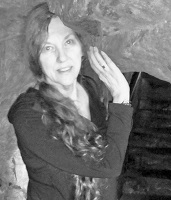 Q.L.Pearce is the author of more than 120 books for young readers, from picture books to YA, as well as film tie-in books for the Fox animated film Titan AE and the Universal animated series Land Before Time.
Red Bird Sings: The Story of Zitkala Sa (Carolrhoda Books, with co-author and illustrator, Gina Capaldi), received several awards including a Carter G. Woodson Book Award gold medal from NCSS and a Moonbeam Children's Book Award gold medal. Her fiction includes the popular middle grade series, Scary Stories for Sleep-Overs italisize (Price, Stern, Sloan).
Q believes strongly in the value of scary books for young readers. When asked what credentials she has which qualify her as an expert in this area she replies, "I was a child once. That was very scary."
Author Links