The Witch's Tears by Elizabeth & Katherine Corr – Book Review
The Witch's Tears by Elizabeth & Katherine Corr – Book Review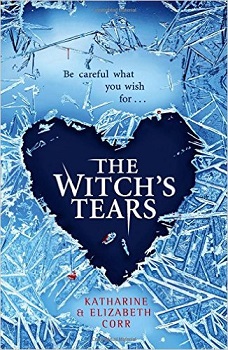 The Witch's Tears
Author – Elizabeth & Katherine Corr
Publisher – HarperCollins
Pages – 416
Release Date – 26th January 2017
ISBN-13 – 978-0008182991
Format – ebook, paperback, audio
Reviewer – Stacey
I received a free copy of this book
Post contains affiliate links

Can true love's kiss break your heart…?
The spellbinding sequel to THE WITCH'S KISS by authors and sisters, Katharine and Elizabeth Corr.
It's not easy being a teenage witch. Just ask Merry. She's drowning in textbooks and rules set by the coven, drowning in heartbreak after the loss of Jack. But Merry is not the only one whose fairy tale is over.
Big brother Leo is falling apart and everything Merry does seems to push him further to the brink. And everything that happens to Leo makes her ache for revenge. So, when strangers offering friendship show them a different path, they'd be mad not to take it…
Some rules were made to be broken, right?

The Witch's Tears, is the sequel to, The Witch's Kiss, which I reviewed earlier in the year. With a lot of sequels, the book never seems to live up to the first one, but there are always exceptions, and this is one of them.
The book starts off three months after where The Witch's Kiss left off. It's the school holidays, and with their grief still strong after what happened in book one, Merry and Leo need one another to get though this tough time.
When their grandmother, and leader of the coven mysteriously vanishes, it's up to the pair to find her, though with Merry still learning her craft, and Leo being consumed by his grief, becoming withdrawn, this is not going to be an easy feat.
The plot felt more in-depth that the first, especially when it came to Merry and Leo's relationship, as these two seemed to be at the forefront of this book, as they both need one another to survive.
Merry is trying to learn and control her magic, even-though others don't always believe in her. Leo is losing himself, but with newly-arrived Ronan taking an interest in him, there is a light at the end of the tunnel for him. We also get to meet another newcomer, wizard Finn.
There is more action, magic and mayhem in this book than the last, especially right at the end, leading to the cliff hanger. The story is exceptionally well-written, and has you turning the pages at lightning speed, absorbing every detail, being sucked into the characters' lives, and the dangerous situation that they find themselves in.
If you have read book one, then you must read The Witch's Tears. If not, and you are a fan of magic/fantasy books, get reading the series, you won't be disappointed.
The Witch's Tears reviewed by Stacey
Purchase Links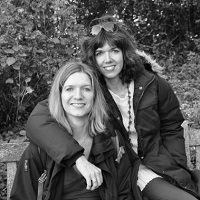 We are sisters and best friends (try writing a book with someone else and you'll see why that last bit is kind of important). After spending our childhood in Essex, we now live ten minutes away from each other in Surrey.
We both studied history at university and went to work in London for a bit. When we both decided to write novels – on account of fictional people being much easier to deal with than real ones – it was obvious we should do it together.
Stuff Katharine likes: playing instruments badly; dead languages; LOTR; loud pop concerts; Jane Austen; Neill Gaiman; Loki; the Surrey Hills. Killing off characters.
Stuff Elizabeth likes: sketching, Buffy the Vampire Slayer, cinema, long baths, kitchen discos, Terry Pratchett, Thor, London. Saving characters.
Stuff we both like: YA / non-YA fantasy and science fiction, Star Wars, Star Trek, each other (most of the time).
Author Links
www.corrsisters.com
@katharinecorr
@lizcorr_writes
Did you enjoy our review of The Witch's Tears?