The Witch's Kiss by Elizabeth & Katherine Corr – Book Review
The Witch's Kiss by Elizabeth & Katherine Corr – Book Review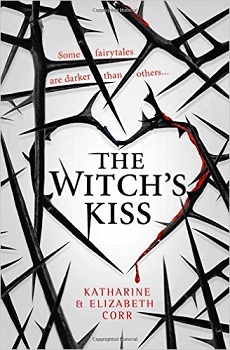 The Witch's Kiss
Author – Elizabeth & Katherine Corr
Publisher – HarperCollins
Pages – 320
Release Date – 30th June 2016
ISBN-13 – 978-0008182984
Formats – ebook, paperback, audio
Reviewer – Stacey
I received a free copy of this book
Post Contains Affiliate Links

Can true love's kiss save the day…?
Electrifying dark magic debut by authors and sisters, Katharine and Elizabeth Corr.
Sixteeen-year-old Meredith is fed-up with her feuding family and feeling invisible at school – not to mention the witch magic that shoots out of her fingernails when she's stressed. Then sweet, sensitive Jack comes into her life and she falls for him hard. The only problem is that he is periodically possessed by a destructive centuries-old curse.
Meredith has lost her heart, but will she also lose her life? Or in true fairytale tradition, can true love's kiss save the day?

Sixteen years old Meredith (Merry), is a witch, though a very unpredictable witch, with not a great deal of control over her powers. She doesn't get to use her powers often, mainly down to her mothers insistence. She is really just like any teenager, dealing with teenage problems, family, exams etc.
Merry is very close to her brother Leo, who is without powers. They are fiercely protective of one another, and there is a lot of love surrounding them.
Merry starts having dreams about a young man, called Jack. It's not long before Jack makes an appearance in her real life, not just in her subconsciousness. She soon finds herself falling for Jack, but there is a centuries-old family curse that only she must fight. She must risk her life in order to stop the awakening.
The Witch's Kiss is an intriguing story that whets the appetite. I was hooked from the first page. I initially read an extract of this book, but after a few days I couldn't get the story and the characters out of my head. I needed to read the full story.
The Corr sisters have written very realistic and engrossing characters, characters that have you caring about them, and their unusual situations.
The writing does flow naturally, which I was unsure whether it would, due to the book being written by two people. But I suppose the old saying 'two heads are better than one' springs to mind, as you certainly can't tell that there are two separate writers.
The story is set in two different time periods, present day, and the Saxon era. The two periods are weaved together beautifully. The flashbacks to the past were more than just short snippets, like in a lot of books, but lasted full chapters. The scenery from the age gone by, and the characters, certainly made you feel as if you had just stepped into the past.
The Witch's Kiss is a perfect YA book, with magical, fantasy elements, young love, and characters that you wish were your friends too. This book, I've been told, is a twist on 'Sleeping Beauty'. Reading it at the time I never noticed. Looking back, I can see it clearly.
A superb book that I would highly recommend.
The Witch's Kiss reviewed by Stacey
Purchase Links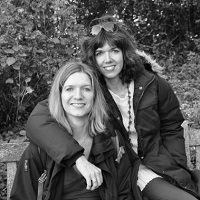 We are sisters and best friends (try writing a book with someone else and you'll see why that last bit is kind of important). After spending our childhood in Essex, we now live ten minutes away from each other in Surrey.
We both studied history at university and went to work in London for a bit. When we both decided to write novels – on account of fictional people being much easier to deal with than real ones – it was obvious we should do it together.
Stuff Katharine likes: playing instruments badly; dead languages; LOTR; loud pop concerts; Jane Austen; Neill Gaiman; Loki; the Surrey Hills. Killing off characters.
Stuff Elizabeth likes: sketching, Buffy the Vampire Slayer, cinema, long baths, kitchen discos, Terry Pratchett, Thor, London. Saving characters.
Stuff we both like: YA / non-YA fantasy and science fiction,Star Wars, Star Trek, each other (most of the time).
Author Links