The Gifts That Bind Us by Caroline O'Donoghue – Book Review
The Gifts That Bind Us by Caroline O'Donoghue – Book Review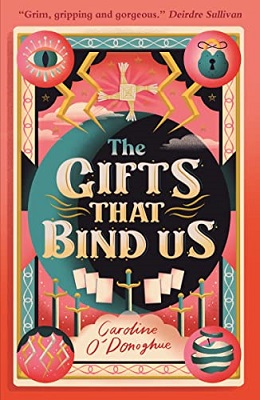 The Gifts That Bind Us
All Our Hidden Gifts Book Two
Author – Caroline O'Donoghue
Publisher – Walker Books
Release Date – 3rd February 2022
Pages – 416
ISBN 13 – 978-1406393101
Format – ebook, Paperback, Hardcover
Star Rating – 4
I received a free copy of this book.
This post contains affiliate links.

Synopsis
A spellbinding supernatural teen drama – and sequel to All Our Hidden Gifts.
Maeve and her friends have revealed their powers and banded together as a coven: Roe can pick locks, Lily sends sparks flying, Maeve can read minds and Fiona can heal any injury.
And even better than their newfound talents? Roe and Maeve are officially an item.
But with strange things happening at school, and old enemies appearing in new places, it soon becomes clear their powers are attracting all the wrong attention. It's not long before Maeve's gift start to wane, drained by someone – or something – that's hiding even from her second sight…
The brilliant second installment in the Hidden Gifts series, with further titles to come.
The Gifts That Bind Us is the second book in the All Our Hidden Gifts series by author Caroline O'Donoghue. I reviewed the first book, titled, 'All Our Hidden Gifts' back in June 2021. And to understand this book fully you do need to read book one first.
Set in Ireland, teenagers Maeve, Fiona, Lily, and Roe are back this time with their new hidden talents which they are practising using. The Christian cult, Children of Brigid, are also back and are up to something which the group needs to work out before it is too late.
This second instalment seemed to have a slower pace to it than the first and focused more on the friendships, love lives, fallings out, etc than the first. It also felt a little more sinister.
The book was certainly enjoyable and I loved watching the teenagers practice using their new skills, although many a time they went too far such as Fiona purposely cutting herself so she could heal herself again.
The story is very inclusive and diverse as well as showing you the opposite side with the cult who don't believe in equality or sexual preference.
A brilliant follow-up to the first book and it was enjoyable following the friends on their new journeys, especially the self-discoveries they all had.
If you have read book one then you need to read this sequel. If you haven't and you enjoy books that involve magic, mayhem, spirituality, etc then this is the series to pick up.
---
Purchase Online:
Caroline O'Donoghue

Caroline O'Donoghue is a journalist and author. She has published two adult novels, Promising Young Women and Scenes of a Graphic Nature, and is currently working on a collection of personal essays exploring her experiences of feminism and witchcraft.
She has a regular column in The Irish Examiner, and has written for The Irish Independent, Glamour, Buzzfeed and Vice, among others. Caroline also hosts Sentimental Garbage, a podcast in which she reviews commercial women's fiction titles with other authors.
Author Links:
---
Share your thoughts on The Gifts That Bind Us in the comment section below!
---
The above links are affiliate links. I receive a very small percentage from each item you purchase via these links, which is at no extra cost to you. If you are thinking about purchasing the book, please think about using one of the links. All money received goes back into the blog and helps to keep it running. Thank you.
Like us on Facebook – Tweet us on Twitter – Join us on Instagram