The Silkworm Keeper by Deborah Swift – Book Review
The Silkworm Keeper by Deborah Swift – Book Review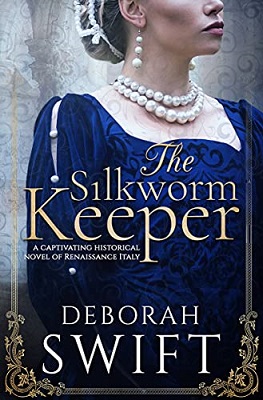 The Silkworm Keeper
Italian Renaissance Series Book Two
Author – Deborah Swift
Publisher – Quire Books
Release Date – 29th June 2021
Pages – 414
ISBN 13 – 978-0993567711
Format – ebook, Paperback, Audio
Star Rating – 5
I received a free copy of this book.
This post contains affiliate links.

Synopsis
Rome 1638
Old sins have long shadows ~ Italian Proverb
Giulia Tofana never wanted to be a nun, but she is determined to atone for her past misdeeds by making her new monastery a success.
When an unexpected disaster closes the convent, Giulia is forced to turn to her old friend Fabio Pasello for help. Giulia still has intense feelings for Fabio and Fabio's passion for her has never diminished.
But they are not the same people they were before. Giulia has taken her vows, and Fabio is apprenticed to Gianlorenzo Bernini the famous sculptor, and has become one of Bernini's rakish libertines. They could not be further apart.
To add to their problems, Giulia cannot escape her reputation as a poisoner, and is soon embroiled in a plot against Fabio's patron, Pope Urban VIII. Faced with the idea of murder, will Giulia renounce her vows or embrace them?
Inspired by true stories, this is a novel of nuns and courtesans, artists and priests, in the shadow and splendour of the Eternal City.
Continuing a few years down the line from where the first book, The Poison Keeper, left off, this book can still be read and enjoyed as a standalone. Giulia is trying to atone for her role in the poisonings that took place in Naples but when her past starts to catch up with her, she's sent to help set up a convent for five orphaned girls at the mercy of their cruel grandfather.
None of the girls are ready for this new life that's been forced on them and it leads to Giulia really considering her own role as a nun and the restrictions on her freedom. She has to use some of her previous savvy to keep the girls safe after they're forced to run and hide in Rome.
There, she has to make a choice between keeping to her holy orders or finally starting a relationship with Fabio, the man she's been longing for since her teens – I still wouldn't consider this book a romance. This book is similar to The Poison Keeper in terms of following the stories of women trying to find freedom to choose their own lives, regardless of how conventional or otherwise their choices are.
The chapters flip between Giulia and Fabio's POV though this time Fabio plays a more important role and we see him growing as a person, from being someone who thinks he knows best to someone who accepts his mistakes, which is for the best as his tendency to trust people just because they're men leads him into deep trouble.
I love the growth of the main characters in this book, reflecting on their pasts and what they want from the future. Paired with the beautiful setting and imagery, The Silkworm Keeper is another gorgeous read with a suspenseful thriller at the heart of it.
---
Purchase Online:
Deborah Swift

As you read this I'll probably be writing from my tall stone house which was once a school and built in 1902. This is a house that is "new" in English terms, as many of our local villages date back to the 1630's or even earlier.
I write historical fiction, a genre I love. I loved the Victorian classics such as Jane Eyre, Little Women, Lorna Doone and Wuthering Heights. As I child I loved to read and when I had read my own library books, I used to borrow my mother's library copies of Anya Seton and Daphne du Maurier. I have loved reading historical novels ever since; though I'm a bookaholic and I read widely – contemporary and classic fiction as well as historicals.
In the past I used to work as a set and costume designer for theatre and TV, so I enjoy the research aspect of creating historical fiction, something I loved doing as a scenographer. Each book takes about six months of research before I am ready to begin writing. More details of my research and writing process can be found on my website. I like to write about extraordinary characters set against the background of real historical events.
I live in North Lancashire on the edge of the Lake District, a beautiful area made famous by the Romantic Poets such as Wordsworth and Coleridge. I love exploring the mountainous landscapes and interesting coastline near my home.
Author Links:
---
Share your thoughts on The Silkworm Keeper in the comment section below!
---
The above links are affiliate links. I receive a very small percentage from each item you purchase via these links, which is at no extra cost to you. If you are thinking about purchasing the book, please think about using one of the links. All money received goes back into the blog and helps to keep it running. Thank you.
Like us on Facebook – Tweet us on Twitter – Join us on Instagram