The Poison Keeper by Deborah Swift – Book Review
The Poison Keeper by Deborah Swift – Book Review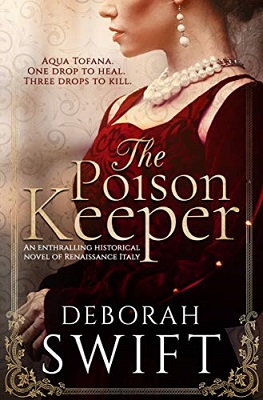 The Poison Keeper
Italian Renaissance Series Book One
Author – Deborah Swift
Publisher – Quire Books
Release Date – 18th May 2021
Pages – 410
ISBN 13 – 978-0993567797
Format – ebook Paperback, Audio
Star Rating – 5
I received a free copy of this book.
This post contains affiliate links.

Synopsis
An enthralling historical novel of Renaissance Italy – Naples 1633
Aqua Tofana – One drop to heal. Three drops to kill.
Giulia Tofana longs for more responsibility in her mother's apothecary business, but Mamma has always been secretive and refuses to tell her the hidden keys to her success. But the day Mamma is arrested for the poisoning of the powerful Duke de Verdi, Giulia is shocked to uncover the darker side of her trade.
Giulia must run for her life, and escapes to Naples, under the shadow of Mount Vesuvius, to the home of her Aunt Isabetta, a famous courtesan. But when Giulia hears that her mother has been executed, and the cruel manner of her death, she swears she will wreak revenge on the Duke de Verdi.
The trouble is, Naples is in the grip of Domenico, the Duke's brother, who controls the city with the 'Camorra', the mafia. Worse, her Aunt Isabetta, under his thrall, insists that she should be consort to him.
Based on the legendary life of Giulia Tofana, this is a story of hidden family secrets, and how courage and love can overcome vengeance.
This is a rich and engaging historical fiction novel based on the story of a real woman, Giulia Tofana, thought to be responsible for supplying the poison that led to the deaths of over 600 men, used by their wives to ease the passing of terminally ill or abusive spouses. Not a huge amount is known about the real woman so the author fills in the gaps with her own imagination.
The narrative follows her escape from Parma as a naïve young woman after her mother is arrested for selling poisons, to meeting her aunt and then honing her own craft as an apothecary and poisoner. I found it all to be an elegant and compelling 'you go girl!' story of a woman finding her power in a time when women weren't allowed any, and sharing that power with other women. The women are definitely not without their own faults but you find yourself rooting for them all the same.
While she's busy milking scorpions, she's being hunted down by the Duke de Verdi for her possible involvement in his own poisoning. He and his brother are two different kinds of awful human beings which adds a broader view on the kind of oppressions women were facing at the time.
The pacing of this story is great and packs a whole lot of intrigue, suspense, and moral dilemma within 400 pages. I was surprised at how well the author strikes the balance between being thought provoking and heavy, the characters all do things that are pretty ethically dubious and they all have their own reasons which, as a reader, you can judge for yourself and possibly end up questioning your own morals by the end.
I think this book has something for all fans of historical fiction, women's stories and the darker side of history.
---
Purchase Online:
Deborah Swift

As you read this I'll probably be writing from my tall stone house which was once a school and built in 1902. This is a house that is "new" in English terms, as many of our local villages date back to the 1630's or even earlier.
I write historical fiction, a genre I love. I loved the Victorian classics such as Jane Eyre, Little Women, Lorna Doone and Wuthering Heights. As I child I loved to read and when I had read my own library books, I used to borrow my mother's library copies of Anya Seton and Daphne du Maurier. I have loved reading historical novels ever since; though I'm a bookaholic and I read widely – contemporary and classic fiction as well as historicals.
In the past I used to work as a set and costume designer for theatre and TV, so I enjoy the research aspect of creating historical fiction, something I loved doing as a scenographer. Each book takes about six months of research before I am ready to begin writing. More details of my research and writing process can be found on my website. I like to write about extraordinary characters set against the background of real historical events.
I live in North Lancashire on the edge of the Lake District, a beautiful area made famous by the Romantic Poets such as Wordsworth and Coleridge. I love exploring the mountainous landscapes and interesting coastline near my home.
Author Links:
---
Share your thoughts on The Poison Keeper in the comment section below!
---
The above links are affiliate links. I receive a very small percentage from each item you purchase via these links, which is at no extra cost to you. If you are thinking about purchasing the book, please think about using one of the links. All money received goes back into the blog and helps to keep it running. Thank you.