The Complete Deeper Realms Volume 3 by Ian Roberts – Cover Reveal
The Complete Deeper Realms Volume 3 by Ian Roberts – Cover Reveal
Today we welcome author Ian Roberts with the cover reveal for his new book 'The Complete Deeper Realms Volume 3', which was released on 23rd February 2022. This post contains affiliate links.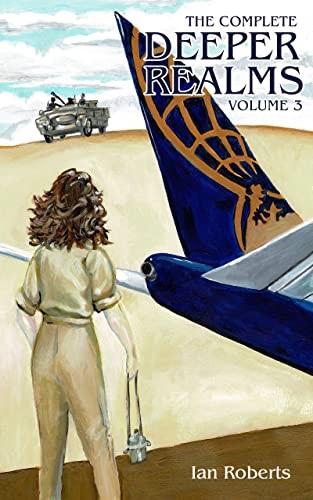 The Complete Deeper Realms Volume 3


The Achronological Casebook
Author – Ian Roberts
Pages – 455
Release Date – 23rd February 2022
ISBN 13 – 978-0993511882
Format – ebook, Paperback

'This doorway is not merely a gateway made of wood – it leads to the wood itself – it is the forest …'
Ravenna Friere is gone, yet anomalies in time are not; nor are the forces wishing to exploit them.
With Dr Eve Wells struggling to process the loss of the enigmatic time traveller who turned her world upside down, we delve back into three more reality shifting stories from the casebook of Ravenna's unpublished adventures.
Facing her own personal troubles, curator Polly Nightingale finds herself drawn to the desert war of 1943 to face her biggest test yet in The Sands of Time. While in medieval Norway – along with Viking age expert Gunn-Rita Annasdotir – the time travellers face the terrifying truth behind the werewolf legend in The Wolf's Head.
Ravenna's time travelling legacy has not gone without attracting unwanted attention however, and as Eve finds herself drawn to ancient Greece, embroiled in the Minoan legend of The Minotaur, a shadowy agency begins to show its hand.
So Join Eve and Polly as they face adversaries both old and new … and more of Ravenna's dark backstory is revealed.
---
Purchase online from:
---
About the Author

The elusive Ian Roberts is a writer, historian and former tutor of medieval history who has been making-up implausible adventures for as long as he can remember.
Often writing with a strong female lead, he uses the medium of time travel as a way of exploring the past, creating a world where the miraculous is possible – and his brand of quirky historical fiction will be sure to delight lovers of both fantasy adventure and classic science fiction.





---
Share your thoughts on the cover of The Complete Deeper Realms Volume 3 in the comment section below!
---
The above links are affiliate links. I receive a very small percentage from each item you purchase via these link, which is at no extra cost to you. If you are thinking about purchasing the book, please think about using one of the links. All money received goes back into the blog and helps to keep it running. Thank you.