Nally Nighttime by James Hewison – Book Review
Nally Nighttime by James Hewison – Book Review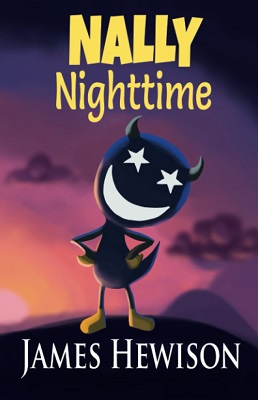 Nally Nighttime
Author – James Hewison
Publisher – Ontria Pty Ltd
Release Date – 15th December 2021
Pages – 30
ISBN 13 – 978-0648379355
Format – ebook, Paperback
Star Rating – 4
I received a free copy of this book.
This post contains affiliate links.

Synopsis
Nighttime arrives after sunset. But, for Ava, it isn't just the end of the day. For her, Nighttime is also a very cuddly, mostly-playful, sometimes-cranky creature with a first name, Nally.
When Ava and her parents sing, Nally Nighttime brings out the stars and shadows and makes Ava's flashlight shine a bright circle on the wall. There are hugs and stories when Nally is around. And Nally gives Ava wild and wonderful dreams that change every night.
But best of all, when Ava gets enough sleep, Nally Nighttime gives her energy, and courage, and smiles to enjoy all through the next day.
In this wonderfully original story, Hewison's simple text and vivid pictures personify Nighttime as a lovable character who illuminates the best bits of bedtime and beyond. Perfect for readers young and old, Nally Nighttime reminds us about the value and joy in the time of the day we can so easily neglect.
Nally Nighttime is a young children's picture book about a little figure called Nally (a metaphor for nighttime) that appears to a little girl every night.
The two of them have lots of fun and the girl knows that the most precious thing that Nally brings her is sleep, as without it she is moody and sad the next day instead of happy and brave.
The story is quick to read with only a sentence on each page. The illustrations are amazing. They are full-page and bring the story to life. I love all the shimmer from the stars and the torch that seem to glow off the page. My only tiny concern is why Nally looks so menacing. I understand that many children are frightened of the dark/nighttime but I'm not sure showing Nally with horns and looking quite devilish is the way to go.
This is a wonderful book for any child who may be frightened of the dark and struggling to sleep. It is a gentle tale that has a calming and relaxing feel to it, so it is the perfect story for bedtime.
---
Purchase Online:
James Hewison

James Hewison is an author of fiction for children and young adults. He was born in Darwin, on the north coast of Australia and spent his childhood swimming in crocodile inhabited waters, discovering extreme sports, and accumulating scars in other death-defying activities. When he wasn't risking his own life, he loved reading and writing about people who were.
When James had two children of his own, they began to enjoy stories too, and none more so than the tales that he conjured out of his mind at bedtime. Every night he told them new stories, weaving in new excitement and quirky twists.
When James's daughter was eight years old, she asked him to write a story so she could have it anytime, not just at bedtime. So he sat down with an idea for a twist on the classic fairy tale Jack and the Beanstalk. He thought five pages ought to be enough, but ideas wouldn't stop popping into his head. The story he wrote became his first novel, Behind the Twisted Fence.
And that was just the beginning.
Author Links:
---
Share your thoughts on Nally Nighttime in the comment section below!
---
The above links are affiliate links. I receive a very small percentage from each item you purchase via these links, which is at no extra cost to you. If you are thinking about purchasing the book, please think about using one of the links. All money received goes back into the blog and helps to keep it running. Thank you.
Like us on Facebook – Tweet us on Twitter – Pin us on Pinterest – Join us on Instagram