Her Dark Heart by Carla Kovach – Book Review
Her Dark Heart by Carla Kovach – Book Review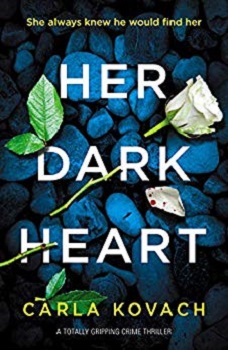 Her Dark Heart
Detective Gina Harte Book Five
Author – Carla Kovach
Publisher – Bookouture
Pages – 326
Released – 19th November 2019
ISBN-13 – 978-1786818836
Format – ebook, paperback
Review by – Stacey
Rating – 4 Stars
I received a free copy of this book.
This post contains affiliate links.
Rory is waiting at the door of the pre-school – a painted picture of his mother Susan in his small hand. But Susan isn't going to see the picture, because she has vanished.
Susan Wheeler is a devoted mother. She would do anything for her three children. She drops them off and picks them up every single day. Until one day when Susan kisses them goodbye and then never comes to pick them up.
Susan's mother Mary is worried. Susan is recently divorced and has been finding things hard recently, but she loves her kids – she'd never leave them.
Susan's sister Clare is furious. It's just like her to go missing. It's not the first time, either. Susan has always been a troublemaker. Always seeking attention. She knows Susan has been lying to the family for years. And she knows that Susan has been sneaking out of her family home for weeks…
As the hours turn into days, even Clare becomes fearful for Susan. And, when Mary discovers Susan's diary, she begins to uncover a dark secret from her childhood. Something no one in the family knew. When the final diary entry leads the police to a man who is discovered dead in a local park, they're left wondering whether Susan has vanished because she is a victim. Or because she is a suspect…

This is the fifth book in the Detective Gina Harte series and the third book I have read from the series. Whilst it would be better to read the books in order, I believe they can all be read as standalone too.
This time Detective Gina Harte is investigating the disappearance of Susan Wheeler, mother of three children and recently separated from her husband. Susan is a bookkeeper so travels to people's places of business or their homes. Her mother wasn't happy about her line of work, believing that she was putting herself in danger.
Her sister Clare believes that Susan has just taken off like she used to do throughout her teenage years, but Gina and her mother are not so sure believing she wouldn't have left her three children like that.
Has Susan been kidnapped? Is the culprit one of her clients or could it be someone from her past?
I've adored the character of Gina Harte since I read book three in the series, 'Her Pretty Bones' back in January. I love the way she works and dark cases she covers. I also loved in the previous books how the plot focused on the crime and not on Gina's private life. However, this book had a lot of Gina's private life in it, especially her past as Susan's mother reminded Gina of her mother who died a little while ago. I have to say I prefer to keep the plot on the crime as I found these sections a little distracting.
That being said, I was fully invested in the story and held captive to the pages as the plot slowing unravelled itself and Susan's past life came out via her diary and a box of her things.
I enjoyed getting to read sections from the person keeping Susan and also Gina's conflict as a man named in Susan's diary turns up dead, could Susan be to blame for his death?
The conclusion was satisfying and shocking too. This is an edge of your seat thriller that was a little slower than the previous books in the series but just as exciting.
Book Reviewer – Stacey
---
Purchase online from:
---
About the Author

Carla Kovach was born in Birmingham, UK and now resides in Redditch, Worcestershire. Author of supernatural drama 'Flame,' psychological thriller 'To Let,' crime thriller 'Whispers Beneath the Pines,' and holiday comedy, 'Meet Me at Marmaris Castle.' Carla also writes stage and screenplays, some of which have been produced in the Worcestershire area. Her feature film 'Penny for the Guy' is being made and is set for release in 2019.
Her latest book, Her Final Hour, has been published by Bookouture. It is the second in the DI Gina Harte crime series.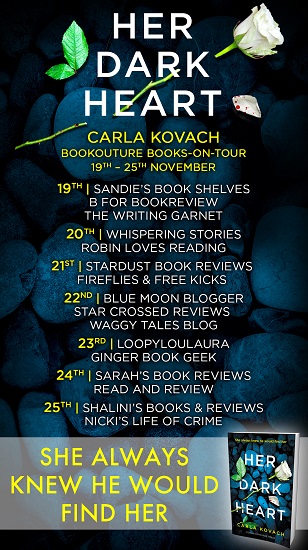 ---
What did you think of Her Dark Heart? Share your thoughts in the comment section below!
---
The above links are affiliate links. I receive a very small percentage from each item you purchase via these link, which is at no extra cost to you. If you are thinking about purchasing the book, please think about using one of the links. All money received goes back into the blog and helps to keep it running. Thank you.