The Golden Age by Kaleb Quist – Book Review
The Golden Age by Kaleb Quist – Book Review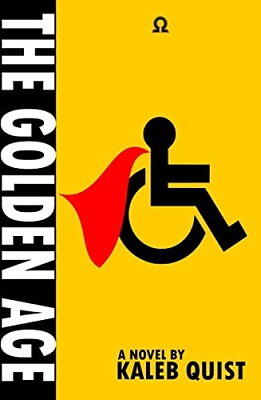 The Golden Age
Author – Kaleb Quist
Release Date – 22nd October 2021
Pages – 311
ISBN 13 – 979-8540492669
Format – ebook, Paperback
Star Rating – 3.5
I received a free copy of this book.
This post contains affiliate links.

Synopsis
Once a generation, there comes a novel bursting with spectacle and drama, inspiring the hearts and minds of readers all over the globe…This is NOT one of those novels.
THE GOLDEN AGE is a slice-of-life comedy/drama which follows a group of elderly superheroes stuck living together in a nursing home. Stripped of their pride and superpowers, they must face their greatest adversary of all: RETIREMENT!
In a last ditch attempt to stay relevant, our heroes stage a mutiny against the nursing home, vowing to take the power back…Even if it kills them in the process!
THE GOLDEN AGE reflects the inherent fear of growing old in a world that treats its senior citizens like second-rate citizens. In the end, what becomes of our heroes when we have no more use for them?
I found 'The Golden Age' rather strange, to say the least, and I am not sure if that was in a good way or not. It certainly was different from what I had expected, which was something like The Hundred-Year-Old Man Who Climbed Out the Window and Disappeared. The author certainly has a nicely surreal imagination.
The story is set in an old people's home, but it was not like any home I have ever heard of. When I tell you that at the start the only four residents are the Militia Man, She-Woman, Skunkboy and Mothman, and they all wear elaborate costumes, you may or may not guess that it is a home for ancient retired superheroes. They are later joined by Omega Man and Literally Satan. The latter obviously is not a hero, but a supervillain, and the arch nemesis of She-Woman.
The book is very well written with some nice humour and one-liners. The nursing staff are very pleasant and treat their residents well.
The descriptions of old age make for slightly uncomfortable reading, for me, there is too much emphasis on the problems of reaching the bathroom in time, and on farting (Skunkman! Yukk!). The residents are only too well aware of their failing strengths, and reminisce about the days when as superheroes they saved the world many times over, and were received by thankful presidents. Some of them have comic books detailing their exploits. There is also a lot of petty squabbling amongst the residents.
The book doesn't really come alive until about two thirds through when the ex-superheroes decide to secede from the United States, and establish their own independent nation. This is quite funny, and poignant when they gradually come to realise that it is not possible, and they re-admit their care staff to the Golden Slumbers Retirement Home.
I don't think it is a spoiler to say that something comes at the end of the book which I found parts of quite moving, and must admit it brought a tear to my eye.
All in all, this book is very thought provoking, and generates various streams of philosophical thought.
I wish I had liked this book more. There is certainly nothing inherently wrong with it, but to be honest it was just not to my taste.
---
Purchase Online:
Kaleb Quist
After being forcibly kicked out of an all-you-can-eat buffet, Kaleb Quist decided to change his life forever by moving to Hollywood (otherwise known as "The New Sodom and Gomorrah") and becoming the number one screenwriter in a 5-block radius. In a world plagued by superhero movies, Kaleb Quist decided the only solution was to plague the world with even more superhero movies. Thus, "The Golden Age" was born.
Mr. Quist tried selling "The Golden Age" to various studios and production companies within the Hollywood system. After discovering he had no soul left to sell, however, the entire project fell through, and he was forced to write books instead. The only problem with selling books on Amazon is [statement redacted by Amazon].
Also, did you know that when you go to a fast food restaurant and buy a burger, you're actually buying horse meat? It's true – horse meat is actually cheaper than cow meat. This is because Mad Human Disease wiped out roughly 90% of the world's population of cows. When you're driving down the road and you see a bunch of cows, they're actually a bunch of horses dressed up like cows, to hide the fact that the milk you're buying at the store is actually coming from a horse.
This conspiracy was put into place by Psycho Mantis after a crippling battle between the Space Soviets and the dinosaurs in the Great Battle of Knob Noster, Missouri, in which almost ten billion cows were killed. This is because the Moon Soviets – under the command of Space Emperor Gorbachev – tried creating a virus to wipe out the velociraptors, but ended up wiping out the cows instead. It was okay though, because they just used catapults to launch all the cows at the stampeding dinosaurs, who were being ridden by clones of Space President John F. Kennedy. Why did my wife leave me for a horse.
Author Links:
---
Share your thoughts on The Golden Age in the comment section below!
---
The above links are affiliate links. I receive a very small percentage from each item you purchase via these links, which is at no extra cost to you. If you are thinking about purchasing the book, please think about using one of the links. All money received goes back into the blog and helps to keep it running. Thank you.
Like us on Facebook – Tweet us on Twitter – Join us on Instagram