One Visit by George Veck – Book Review
One Visit by George Veck – Book Review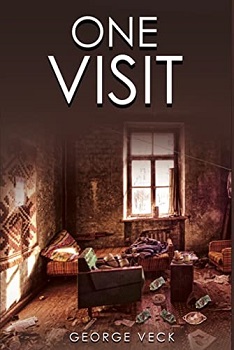 One Visit
Author – George Veck
Release Date – 22nd November 2022
Pages – 255
ISBN 13 – 979-8362438265
Format – ebook, paperback
Star Rating – 4
I received a free copy of this book.
This post contains affiliate links.

Synopsis
In sleepy, rural North Wales, Frankie Gibbs, a recently laid off, aimless twenty-year-old on Universal Credit, wants nothing more than to keep his younger brother out of the care system. He single-handedly takes this upon himself while their alcoholic, cocaine-addict, single-parent father, Guy Gibbs, heaps misery on their lives through systematic abuse and his never-ending wild parties.
After Guy is sent to prison, Frankie is coerced into opening his home to Justin, an acquaintance from his school days now turned drug dealer, while his own addiction and self-worth spiral beyond recognition.
To most tourists, any part of North Wales appears idyllic and none more so than the area around Bangor, nestled between dramatic Snowdonia and the beautiful Menai Strait. The author George Veck was brought up there and if his description is accurate, life there is far from perfect. In One Visit George gives us a grim description of the difficult and hopeless lives that many live in areas short of opportunities, where alcohol and drugs control many lives, causing misery to themselves and those around them.
Our protagonist Frankie Gibbs is in his late teens. The son of the feckless widower, Guy, he struggles to look after himself and protect his younger brother Dazzler from the worst of his father's behaviour which includes hosting all night drink and drug parties. Unfortunately the boys cannot resist the leftovers and their lives spiral downwards. Sad though it is, the front cover gives an accurate description of Frankie's bedroom.
I read on Amazon that George Veck initially wrote One Visit as a screenplay and I can see how it would work either as a recorded drama or probably better, as a stage play. It took me a while to tune in to his writing style which, deliberate or not, is appropriate for the setting. He also lapses into Welsh from time to time. I didn't understand it but I'm not complaining; if I don't know one of my island's oldest languages that's my loss.
There is some humour in the book but because of the despair I almost felt guilty for enjoying it. The title is taken from the nickname of Frankie's friend, Alfie, who is the one character with an escape plan. As a talented local snooker player he has managed to qualify for Cue School, the annual tournament where success for the best players gives access to the now lucrative professional snooker circuit. Can Alfie succeed and will he take Frankie as his wingman and training partner?
One Visit might be depressing but please bear with it, you will be rewarded. I have awarded it four stars.
Although One Visit was only published two months ago, I note that George Veck has already published a second novel titled Spurious Scrapper. If you enjoy the former then why not give that a try.
---
Purchase Online:
George Veck

I grew up in rural North West Wales, where hardships and a lack of opportunities spurred my passion for tackling tough subjects, such as poverty, addiction and mental health. Currently studying a masters degree in screenwriting at the University of South Wales, I've written and directed three short films.
One Visit was the first feature-length screenplay I ever wrote, and through the exposure of this novel, I hope to garner interest and funding to turn it into a film one day.
Author Links:
---
The above links are affiliate links. I receive a very small percentage from each item you purchase via these links, which is at no extra cost to you. If you are thinking about purchasing the book, please think about using one of the links. All money received goes back into the blog and helps to keep it running. Thank you.