A Long Shadow by David Beckler – Book Review
A Long Shadow by David Beckler – Book Review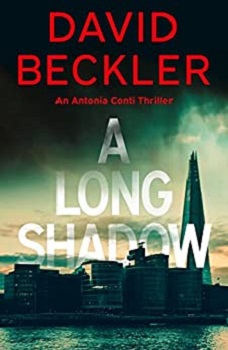 A Long Shadow
Antonia Conti Book One
Author – David Beckler
Publisher – Thomas & Mercer
Release Date – 1st October 2022
Pages – 411
ISBN 13 – 978-1542034685
Format – ebook, paperback, audio
Star Rating – 5
I received a free copy of this book.
This post contains affiliate links.

Synopsis
In this dystopian vision of London, public safety is in private hands―and nobody is beyond the reach of the 'law'.
The constant threat of terrorism has left London under round-the-clock surveillance and in the tightening grip of privatised security firms. Journalist Antonia Conti suspects one such organisation―GRM―not only of being behind several women's disappearances, but of financing the widespread violence it claims to fight.
When a gang of hitmen use rampant state surveillance to track Antonia down, she narrowly escapes with her life. But then one of them turns up dead―covered in her DNA―and Antonia finds herself the prime suspect in his murder.
DS Russell Chapman needs to bring her in. But evidence that Antonia has been framed quickly stacks up and when a personal grudge between her and GRM's shadowy head of security is revealed, he begins an uncomfortable partnership with her.
Together, the pair delve beneath the surface of the corporate machine and soon find themselves embroiled in a dark and violent underworld even they had barely dared imagine. Will they find the evidence to bring GRM down? And can they keep Antonia's name off the list of missing women?
A Long Shadow is the first book in the Antonia Conti series. The series features its titled character, Journalist Antonia Conti, who is living in a dystopian London.
In this first outing Antonia is working undercover as a cleaner at Reed-Mayhew, a GRM security partners head office, investigating the company and their possible fraudulent activities in keeping control of the security contract for London alongside her investigation into numerous disappearances of women she believes have been kidnapped, possibly murdered by the company.
The book jumps right into the thick of the action from the opening page when Antonia is nearly killed by a group of men and narrowly gets away, though not without a few bruises.
However, she is soon investigated about the event when a body turns up in a lake where she was attacked along with Antonia's backpack, and another turns up not long after covered in her DNA. DS Chapman and Constable Sanchez have been given the cases and are hot on Antonia's tail.
I love a book that wastes no time getting to the action and A Long Shadow certainly doesn't. Antonia is a strong-headed, determined woman who doesn't take being told what to do, or no lightly. She is very capable of handling herself, which the bad guys and the police soon discover.
The plot moves along at a fast pace and it feels like the action never stops leaving you on edge throughout. The characters are believable and easy to like – Okay, DS Chapman does take a little bit of time to like but he soon won me over.
I found A Long Shadow hard to put down. I was gripped by the goings-on and eager to know whether GRM were the culprits behind the missing women, plus their dodgy dealings in keeping their security contract with the government.
The story may be set in a dystopian world, but scarily enough this is a world you could actually believe could happen, and not too much in the distant future either. If you love thrillers that grab you from the first page and don't let you go until the last, this is the book to pick up. I'm now about to start the second in the series, A Stolen Memory, right away.
---
Purchase Online:
David Beckler

I write fast-paced action thrillers populated with well-rounded characters.
Born in Addis Ababa in 1960, I spent my first eight years living on an agricultural college in rural Ethiopia where my love of reading developed. After dropping out of university I became a firefighter and served 19 years before leaving to start my own business.
I began writing in 2010 and use my work experiences to add realism to my fiction.
The Mason and Sterling series centre on two ex-Royal Marines, Byron who now runs a security company and Adam who is a firefighter. A strong cast of characters support my protagonists. Long Stop Books published Brotherhood, the first novel in the series, in September 2019 and the second, The Profit Motive, on December 16th 2019. The third, Unprotected, will come out in 2021. Brotherhood is set in Manchester and The Profit Motive in Manchester and Wenzhou, China.
I live in Manchester, my adopted home since 1984. In my spare time I try to keep fit—an increasingly difficult undertaking—listen to music, socialise and feed my voracious book habit.
Author Links:
---
The above links are affiliate links. I receive a very small percentage from each item you purchase via these links, which is at no extra cost to you. If you are thinking about purchasing the book, please think about using one of the links. All money received goes back into the blog and helps to keep it running. Thank you.