Vocabulary of Light by Ann Warner – Book Review
Vocabulary of Light by Ann Warner – Book Review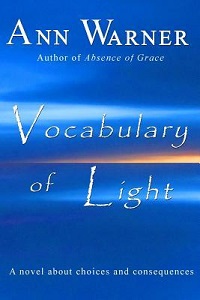 Vocabulary of Light
Author – Ann Warner
Publisher – CreateSpace
Pages – 240
Release Date – 14th September 2015
Format – ebook, paperback
Reviewer – Selina
I received a free copy of this book
Post Contains Affiliate Links

Living in Puerto Rico might sound like a dream to some people, but for Maggie Chase it's more of a challenge than she's looking for. Maggie, who has a PhD in biochemistry, agreed to put her husband's career first after the birth of their daughters, and that has now led to Mike accepting the position of CEO of the Lillith Pharmaceuticals plant in San Juan.
Struggling to fit into the bilingual, Latin culture of Puerto Rico, Maggie's adjustment is aided by the friendships she develops. Friendships that bring both dark and light into her life, and eventually demand of her an inner strength and resilience she didn't know she was capable of.

This is the first book I have read by Ann Warner and I was pleasantly surprised.
The title and cover do not do the book any justice though. Covers can be crucial to a books success, and this book desires to be very popular, unfortunately the cover doesn't stand out from the crowd, which is such a shame as this was an enjoyable read, which I think other will love.
Maggie reluctantly has to uproot her life in Boston and move to Puerto Rico with husband Mike and their daughters, Julie and Jillian, after Mike accepted the position of CEO of Lillith Pharmaceuticals plant, in San Juan.
Struggling to adjust to life in a new place, meeting new people, and trying to maintain her career, Maggie finds herself in situations that she doesn't particulary like, but being the kind person Maggie is, she always put everyone else lives before her own, and always has the best intention at heart.
As we learn about Puerto Rico through Maggie's eyes, I got a vivid view of how life would be and how its people live. I loved the culture aspect, its always refreshing to visit a new place.
I enjoyed Maggie's adventures, yes some pages were dark and some not so dark, but its just one of those stories that you have to keep turning the pages to see how things will pan out.
At times I was really rooting for Maggie to find happiness for herself. I felt Ann has put a lot of time and effort into this story to get it just right, and just right she did.
Book Reviewed by Selina
Purchase Links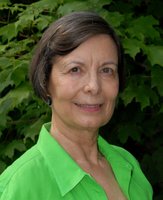 A former Air Force brat turned clinical chemist, toxicologist, and university professor, Ann's life took another turn in 2001, when she began writing fiction.
After completing a perfectly dreadful novel (she didn't know it was at the time) she talked her way into a graduate writing seminar and followed that up with several years of study as she continued to write. Along the way she made friends with other writers who have supported, critiqued, and eventually praised her novels. Her debut novel, Dreams for Stones, was a finalist for the Indie Next Generation Book Award.
Ann's novels take advantage of the many unusual settings she's traveled to or lived in including New Zealand, Australia, Peru, San Francisco, Wrangell Alaska, Colorado, Boston, and Puerto Rico. As well, her experiences as a toxicologist have added fillips of intrigue to many of her stories.
In Ann's novels, the consequence of choosing to love or not to love is an underlying theme, as characters face crises and complications that force them to dig deep within themselves to discover their own resilience.
Author Links