Summer at the Little Cornish Gift Shop by Rachel Griffiths – Book Review
Summer at the Little Cornish Gift Shop by Rachel Griffiths – Book Review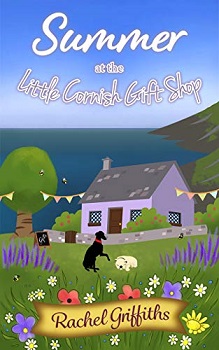 Summer at the Little Cornish Gift Shop
Author – Rachel Griffiths
Publisher – Cosy Cottage Books
Pages – 110
Released – 16th July 2016
Format – ebook
Reviewer – Stacey
Rating – 4 Stars
I received a free copy of this book.
This post contains affiliate links.
Summer has come to Bothilde Bay and Ruby Penrose is savouring the calm pace of life in the Cornish village. Her close friend, Jake Woodhouse, is staying nearby and they are enjoying spending plenty of time together.
When a mysterious stranger arrives at the little gift shop, Ruby is worried about her nanna's reaction. Why has this man's presence upset Harriet Martin and why is he so keen to speak to her?
Jake has his own problems when a figure from his past turns up with news that he can't ignore. How could this have happened and what is he going to do about it? He thought he'd left the life of a reality TV star far behind him, but it seems that he was wrong.
Following weeks of fun and laughter, misunderstandings and disappointments, Ruby gets the surprise of a lifetime. But will she follow her heart, or decide that she's better off alone?
Join the residents of the little Cornish gift shop as they embark upon what could be their best summer yet.
We are back for our third and final visit to the little village of Bothilde Bay, Cornwall. The first two books are 'Christmas at the Little Cornish Gift Shop' and 'Spring at the Little Cornish Gift Shop'.
This time Ruby and Jake are trying to make a go of their relationship but are wanting to take things slowly as they have both been hurt in the past. Nanna comes over all funny when a face from the past makes an appearance in the village, Lucie is back to try and cause issues with Jake and even the dogs Amber and Sherlock Bones are up to mischief.
I love Rachel Griffith's books and this series has been a real joy to read. I've loved following Ruby and Jake's relationship gradually develop and adored spending time with Ruby's nanna Harriet. I also love how much of a part of the book the two dogs play.
This book although does include nanna Harriet having to deal with a face from the past mainly dealt with Ruby and Jake and their relationship and how they truly felt about one another. The ending was perfect, even if I did expect it to go in a slightly different direction and I will miss my visits to Bothilde Bay and the cast.
If you are after a new series to get into I can suggest this one, the books have all been a pleasure to read, they are set in the most gorgeous village right near the sea and who doesn't love a book with dogs in. They each make you feel happy and are heart-warming too. It's not one you can pick up partway through though, so make sure you start at the beginning and work your way through the three books.
Book Reviewer – Stacey
---
Purchase online from:
---
About the Author
Author. Wife. Mother. Earl Grey tea drinker. Gin enthusiast. Dog walker. Fan of the afternoon nap.


---
What did you think of Summer at the Little Cornish Gift Shop? Share your thoughts in the comment section below!
---
The above links are affiliate links. I receive a very small percentage from each item you purchase via these link, which is at no extra cost to you. If you are thinking about purchasing the book, please think about using one of the links. All money received goes back into the blog and helps to keep it running. Thank you.
Like us on Facebook – Tweet us on Twitter – Pin us on Pinterest
If you enjoyed our post please feel free to share it using the social media links below.