Pokergeist by Michael Phillip Cash – Book Review
Pokergeist by Michael Phillip Cash – Book Review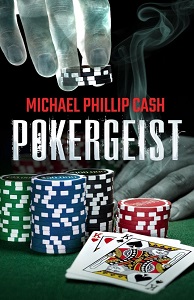 Pokergeist
Author – Michael Phillip Cash
Publisher – CreateSpace
Pages – 265
Release Date – 15th July 2015
Format – ebook, paperback, audio
Reviewer – David
I received a free copy of this book
Post Contains Affiliate Links

Sometimes life, as well as death, is about second chances. Luckless Telly Martin doesn't have a clue. An awful gambler trying to scrape by as a professional poker player, he becomes the protégé of world famous poker champion Clutch Henderson.
The only catch… Clutch is a ghost. Telly and Clutch must navigate the seedy gambling underbelly of Las Vegas learning to trust each other in order to win the elusive International Series of Poker, repair their shattered personal relationships and find redemption in this life and the hereafter.

Pokergeist by Michael Philip Cash is a genie in the bottle story crossed with a Rocky against the odds tale, with poker as the focus. If you like the sound of that then crack on as you don't need to read any more of this review.
If, however, you need further details then please, by all means, stick around awhile.
Clutch Henderson is a professional, life-long terrible gambler but a wonderful poker player. He faces off against Adam 'the Ant' Antonowski, a teen upstart who battles through to the final table of the International Series of Poker from the humble origins of an on line tournament.
As the final hand beckons and the elusive championship bracelet seems to be within Clutch's reach he loses. As the realisation dawns Clutch suffers a dreadful heart-attack and dies.
Fast forward one year and we are introduced to Telly, a down on his luck I.T. engineer who has recently been made redundant and dreams, for some inexplicable reason, of entering the International Series tournament and winning it. I say inexplicable because Telly is a terrible player.
He's lived his life by rules and systems so why he wants to enter and believes he can win at a game of chance and skill is a little lost on me.
Anyhow, with his last penny Telly throws a coin into a fountain pond wishing he wasn't loser at the same time as Clutch gets one last chance from his guardian Angel to realise his dreams. Thrown together Telly and Clutch go for it.
Pokergeist, is short, sharp and sweet. The dialogue is snappy, the poker showdowns are wonderfully realised and the rhythms of the game of poker comes across brilliantly.
The characters are thin and not at all sympathetic. Unfortunately habitual gambling doesn't garner a lot of sympathy. The females are portrayed like they've been written from the viewpoint of an early Bon Jovi song. Blah.
While I've already stated the dialogue is snappy, the author's insistence of changing viewpoints, sometime is mid-conversation is extremely erratic and annoying. Please stop it Michael as this dampens the impact your Elmore Leonard-esq dialogue has on the novel.
Sharp, pacey and with wit, 'Pokergeist' is a good, but ever so slightly flawed diversion.
Book Reviewed by David
Purchase Links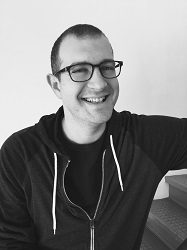 Born and raised on Long Island, Michael has always had a fascination with horror writing and found footage films.
He wanted to incorporate both with his début novel, Brood X. Earning a degree in English and an MBA, he has worked various jobs before settling into being a full-time author. He currently resides on Long Island with his wife and children.
Author Links