The School of Homer by Alexander Marriott – Book Review
The School of Homer by Alexander Marriott – Book Review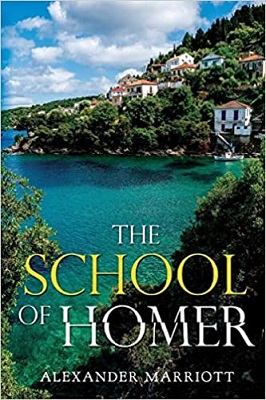 The School of Homer
Author – Alexander Marriott
Publisher – Vanguard Press
Release Date – 23rd February 2023
Pages – 416
ISBN 13 – 978-1800164208
Format – ebook, Paperback
Star Rating – 3.5
I received a free copy of this book.
This post contains affiliate links.

Synopsis
Virgil Colvin, a retired homicide detective, leaves his hometown Chicago to resurrect his honeymoon memories with his dead wife in Ithaca, Greece. There, he befriends the Vathy police chief, Costas Pantakalas, over stories of a shared profession and countless cups of ouzo.
One day, Virgil wakes to the violent tremors of the earth to find Ithaca has just had an earth quake. But that is not the only unusual occurrence. In the city's public square, at the feet of Odysseus, someone has dumped the body of a British tourist in the small hours of the morning. He ran to the ends of the earth to escape his former life, but murder had other plans for Virgil Colvin.
Together, Virgil and Costas join forces to track down a killer. But in their quest to find the murderer, will they unearth an even more astounding secret?
Jaded homicide detective Virgil Colvin moves from Chicago to Vathy on the island of Ithaca in Greece to escape reminders of his dead wife, Janet. Why Vathy? Virgil and Janet honeymooned there thirty years earlier. But a sudden earthquake interrupts his aimless life of spending late nights drinking ouzo. He has only begun assessing the quake damage to his villa when Vathy's police chief, Costas Pantakalas, pays him an unexpected visit. The chief has a big problem. Someone has dumped the body of a British tourist at the feet of the statue of Odysseus in the town square. Costas has never investigated a murder, so he asks for Virgil's help.
Virgil isn't eager to play detective again, but he agrees to help. Right off the bat, they discover that the "tourist" was not whom he first seemed. This certainly complicates matters! The two detectives decide to retrace the dead man's wanderings throughout the island to see if that will turn up clues to what happened.
Investigating a murder is tough enough, but the two cops must also deal with subsequent earthquakes, an attempted coup in Turkey, which is not that far away, and rumors of a gun-running operation on Ithica itself.
At its core, The School of Homer is a decent mystery novel. However, it's tied closely to places named in Homer's Iliad and Odyssey. Being only noddingly familiar with these, I didn't always find it smooth going. There is considerable treatment of whether modern-day Ithica or the nearby (and larger) island of Kefalonia is the actual site of the ancient world Homer describes in his Odyssey. I found it difficult to discern what the fuss was about, particularly since the Odyssey is mainly fictional. But the distinction turns out to be significant to the plot. The School of Homer is the only work of fiction I can recall that came with a bibliography, but the intricate interweaving of the story and Homer's works probably required it.
Overall, the story introduces some intriguing characters. Marriott fleshes out several of them quite well. Virgil, in particular, is sympathetic and relatable. Others, like the British historian visiting the island and the Communist party hack, are more two-dimensional, often to the point of caricature. But the setting he paints is idyllic and, except for the earthquakes, a place that I might like to pay an extended visit to.
I don't usually comment on technical quality, but I feel it's appropriate in this case. The eBook (which I purchased from Amazon) has no usable table of contents and no ability to change the font face, type size, or background color. You also cannot search within the book. These are all features I've come to depend on, and I keenly felt their absence. I'm not sure whether this was on purpose or a technical glitch.
The School of Homer is not your typical mystery novel. The exotic setting is pleasant, and I enjoyed the crime-solving part. But without a grounding in the classics, you might find yourself a bit at sea.
---
Purchase Online:
Alexander Marriott

Alexander Marriott was born 6 February 1984 in Winfield, Illinois, outside of Chicago. He grew up in the Chicago suburbs, Jeddah, Saudi Arabia and Las Vegas, NV. He developed an intense interest in history while living abroad and made a career of it, going to graduate school and graduating with a PhD in American history from Clark University in 2013.
He has taught American, British, European and Texas history at Wiley College and Alvin Community College since 2013. He continues to travel widely, read broadly and write whenever he has the time and opportunity.
Author Links:
---
The above links are affiliate links. I receive a very small percentage from each item you purchase via these links, which is at no extra cost to you. If you are thinking about purchasing the book, please think about using one of the links. All money received goes back into the blog and helps to keep it running. Thank you.