The House on Seventh Street by Karen Vorbeck Williams – Book Review
The House on Seventh Street by Karen Vorbeck Williams – Book Review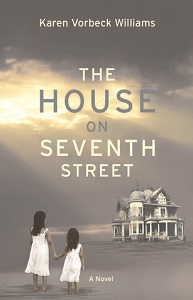 The House on Seventh Street
Author – Karen Vorbeck Williams
Publisher – Booktrope Editions
Pages – 240
Release Date – 26th July 2015
Format – ebook, paperback, audio
Reviewer – Catherine
I received a free copy of this book
Contains Affiliate Links

Winna returns to her Colorado hometown and her father's last residence, an 87-year-old mansion built by his father, to settle his estate.
As Winna shares memories with her married daughter, reconciles with her disinherited sister Chloe, and becomes reacquainted with old classmates, the old house gives up its secrets. A handwritten will, old love letters, an unfinished story in a notebook, and a diamond ring hidden among her childhood marbles call into question everything Winna knows about her beloved grandmother.
Then come footsteps on the stairs, numerous break-ins, her car's brake failure on a mountain road, a fall down the basement stairs. Someone is trying to kill Winna.
She can't begin to think it is her sister or Todd, Chloe's handsome new husband. Could it be her high school boyfriend John or the local handyman she's hired?

Winna Jessup is a woman of maturing years who returns to her hometown to close the estate of her recently deceased father. There she is reunited with her former high school sweetheart, the best friend of her youth, her estranged sister, and her grown daughter – all while tying up loose ends in the home once ruled by her grandmother.
As Winna begins her clean-up efforts, she discovers clues that lead her to believe that her grandmother may not have been the paragon of virtue she once believed. She first discovers a very expensive diamond ring, followed by a handwritten will and the beginnings of a novel — which appears to be an attempt on her grandmother's part to fictionalize events in her own life, maybe as a way to understand them herself. And then the weirdness starts: a late-night break-in, someone has tampered with the brakes on her car, and even an attempt to poison her. Someone apparently wants Winna dead – but who?
As you can already see, 'The House on Seventh Street' may be a stately old mansion, but it's anything but quiet. Told in third person and switching constantly from the 1990s to the 1940s, and then the 19-teens, the author takes the reader through the lives and thoughts of Winna and her grandmother, and even through her father, as slowly the story unfolds to explain the mysterious appearance of jewels found in the present day.
As a reader, I enjoyed this book and kept coming back to it; but I found the constant time shift a bit confusing. I loved trying to guess who the culprit was that kept threatening Winna's life, but was then a bit disappointed when the culprit was revealed. And, sadly, I found the reveal at the end confusing – I'm still not quite certain what I read, and I've read it three times. For me, there was just too much going on at one time to simply fall in love with this book.
With that said, I really did like The House on Seventh Street. The writing was compelling and the main characters were well-developed. And, for all that it just "wasn't my thing," I would definitely try another book by this author because, overall, it was an interesting read and I think there will be many readers who simply fall in love with it.
Book Reviewed by Catherine
Purchase Links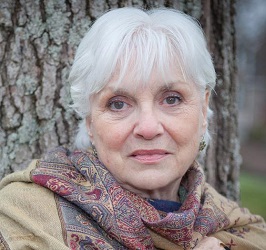 Karen Vorbeck Williams is author of a book of historical fiction My Enemy's Tears: The Witch of Northampton, winner of the 1st place award for general fiction at the 2012 New England Book Festival. At present she is working on another historical novel set in 17th century New England.
Her novel "The House on Seventh Street" was inspired by her affection for the Nancy Drew Mysteries she enjoyed as a girl.
An award winning photographer, she has exhibited at both Art Works and Gallery X in New Bedford, MA. Before her retirement, she spent many years years designing gardens.
Karen lives in Rumford, RI with her dogs, Sparky and Gracie. All three enjoy her garden.
Author Links