The Flower Seller by Linda Finlay – Book Review
The Flower Seller by Linda Finlay – Book Review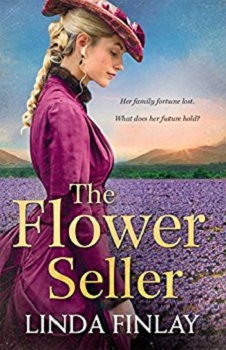 The Flower Seller
Author – Linda Finlay
Publisher – HQ
Pages – 416
Released – 8th March 2018
ISBN-13 – 978-0008262945
Format – ebook, paperback, audio
Reviewer – Stacey
Rating – 5 Stars
I received a free copy of this book
Post contains affiliate links
Isabella Carrington has been brought up in a life of privilege in London. Her life seems perfect, until her father suddenly announces bankruptcy. To save Isabella from destitution he sends her to stay with family she has never met, far away on a violet farm deep in Devon.
Isabella is horrified to find her uncle expects her to work for her keep, packing up the flowers and selling them in the nearby market. However she soon discovers that life on a violet farm may not be so bad, especially when she meets handsome local farmer Felix Furneaux…

Now, I'm not a huge historical novel reader, in fact, it is often a genre I shy away from. That doesn't mean I don't appreciate a beautiful story when I see one, and this was most certainly beautiful, both inside and out.
Brought up in a life of luxury, living in a huge house in London with her father and their maids, butlers, etc. Twenty-year-old Isabella Carrington is used to spending her days socialising, having lunch at Claridge's, and shopping. Her life of privilege comes to an abrupt end when her father loses his financial investment when the company he invested in is destroyed by a fire.
Knowing that he was going to lose everything, he sent Isabella off to live with her mother's brother, her Uncle Frederick and his family in a little village called Dawlish in Devon. Isabella is shocked to learn that she will be living with the family in a tiny semi-detached house, sharing a bedroom with two of her cousins and expected to help around the house and with the family's flower business.
The Flower Seller is one of the most delightful books that I have had the pleasure of reading in a long time. The characters are all divine, especially Isabella. This is a young woman who was well educated, used to everyone doing everything for her, always having enough money to purchase anything she wanted. Then out of the blue she is forced to go and live with relatives she had never heard of before, in their tiny home, and work too!
Ms. Finlay has certainly done her research in order to capture the time period perfectly. It was lovely to be able to see the differences between those with money and the less well off. It was also a joy to read about life, both in historical London and Devon.
This was a book that I fully engaged with. I read it in two sittings and enjoyed every minute of it. I look forward to reading more by Linda Finlay in the future.
Reviewed by Stacey
---
Purchase online from:
---
About the Author
As an Image Consultant, Linda has always had an avid interest in people. Helping them to regain their confidence after they've undergone life changing surgery is one of the most satisfying areas of her work.
Linda has always loved writing stories and won a competition run by the local paper when she was 11.
She has since been published in magazines and annuals. Moving to the spectacular Devon coast and learning about its local history inspired her to write her first novel The Royal Lacemaker. Under the patient guidance of a local teacher, she learned to make lace and is very proud of the 'spider' she produced.
She loves beach-combing, finding it the perfect excuse to indulge in a spot of people watching.

---