Chizawa Bay: As Ugly As I Am by Shawn Mahler – Book Review
Chizawa Bay: As Ugly As I Am by Shawn Mahler – Book Review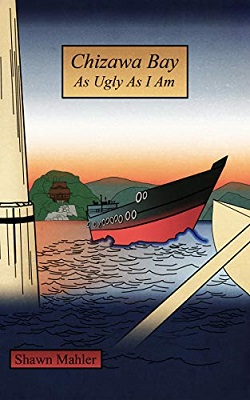 Chizawa Bay: As Ugly As I Am
Author – Shawn Mahler
Pages – 213
Released – 20th October 2020
ISBN-13 – 979-8699759620
Format – ebook, paperback
Review by – Clive
Rating – 4 Stars
I received a free copy of this book.
This post contains affiliate links.


"What's on the surface is not what's underneath." Honne Tatemae (本音 建前)
Japan presents its best face to the outside world at all times. And while the nation is full to the brim with honorable and lovely men and women, the soul of Japan, if it were ever truly laid bare, would make a lot of people blush.
'Chizawa Bay: As Ugly As I Am' is a slice-of-life literary novel based on the lives of a rural fishing village in Central Japan. The story centers on Sensei, a Tokyo-educated scholar and pearl farm owner, and his friendship with Makoto, the de facto leader of a group of jobless and homeless ne'er-do-wells. Sensei is the town's most beloved citizen, a man for whom any one of Chizawa's fishermen and farmers would lay down their lives. His birthday is coming up and Makoto and friends fear for his safety. He'll be turning forty-two, a bad age to be in Japan for it is a designated age of yakudoshi ("a year of evil"). Makoto and company go to great lengths to help Sensei avoid the curses of yakudoshi and though they are well intentioned they do him far more harm than good.
Chizawa Bay is a humorous, thought-provoking novel. It is a playful glimpse inside the minds and hearts of the Japanese, a story written to lift the veil on an often misunderstood and misinterpreted culture. It is a story that will expose readers to a different way of thinking about and appreciating beauty.

I believe this is Shawn Mahler's first published novel and if that is correct he has started very well. Chizawa Bay, As Ugly As I Am is a great romp in an interesting setting. There is a lively ongoing story and wrapped around it are many short stories about various other characters from Chizawa which help us to understand the town, the country and their people.
Around the world there are many run down harbour towns which have seen better days. Fishing fleets have shrunk and associated industrial units have been closed or repurposed. They frequently attract society's homeless and misfits. Without naming them, I can think of a few similar towns in the UK but a story set in one of them would have impressed me less. What I really enjoyed about this book was what I learned about the people of Japan, particularly their values and beliefs.
I understand that Mahler was born in the USA but has worked and travelled in Japan where he collected a number of stories which have been incorporated into Chizawa Bay, As Ugly As I Am. During the first few chapters it appeared that the whole book was to be short stories but given their variety and the information supplied, that was not a problem for me.
The text is easy to read and the author has created some interesting characters. I really enjoyed the comedy antics of the Furousha and the flawed but easy going scientist, Sensei.
If you want to know more about Japan and enjoy a gentle comedy then Chizawa Bay, As Ugly As I Am could be the book for you. I have awarded four stars.
Book Reviewer – Clive
---
Purchase online from:
---
About the Author

Shawn Mahler is a multimedia artist based in Nagoya, Japan. He is Creative Director of Nagoya city's oldest English-language theater company, Nagoya Players. He also has an extensive background in video production and creative writing and has created content for several organizations, charities and not-for-profit groups.
While completing his course in Film & Media Studies at the University of California, Irvine he was introduced to the works of Japanese film director Shohei Imamura. A fascination with Japanese storycraft and culture quickly developed. After a short stint working in TV and movie production in Hollywood, Shawn moved to Japan to meet his idol and study under Imamura. He has made Japan his new home and is active in both the Japanese and expatriate theater and film-making communities.
He works with a variety of not-for-profit organizations and community groups and has produced, written and directed several theater shows for Japanese audiences. He also makes documentaries and short films, recently working with HOPE International Development Agency – Japan, traveling deep into the mountains of Mindanao, Philippines to document the challenges and threats facing their indigenous people. Shawn served as Creative Director for an international documentary film festival in Kobe, Japan, The IAFOR Documentary Film Award. And now, as Creative Director of Nagoya Players he plans their annual seasons, oversees production and directs shows.




---
What did you think of Chizawa Bay: As Ugly As I Am? Share your thoughts in the comment section below!
---
The above links are affiliate links. I receive a very small percentage from each item you purchase via these link, which is at no extra cost to you. If you are thinking about purchasing the book, please think about using one of the links. All money received goes back into the blog and helps to keep it running. Thank you.
Like us on Facebook – Tweet us on Twitter – Pin us on Pinterest