The Treasure in the Tower by Rob Keeley – Book Review
The Treasure in the Tower by Rob Keeley – Book Review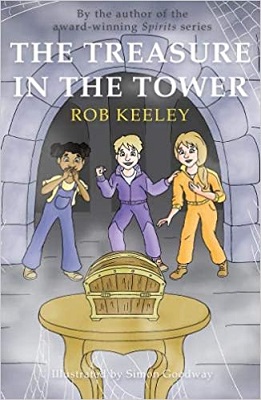 The Treasure in the Tower
Author – Rob Keeley
Publisher – Matador
Pages – 86
Released – 19th October 2020
ISBN-13 – 978-1800461321
Format – ebook, paperback
Review by – Stacey
Rating – 4 Stars
I received a free copy of this book.
This post contains affiliate links.


Rob Keeley is back with The Treasure in the Tower, his first standalone novel for middle graders following the success of his Spirits series. It's a fun, historical mystery based around a school residential trip, blending a treasure-hunting plot with a school story and a large amount of humour.
A school trip to historic Deanchester becomes more exciting when Jess and her friends discover the city hides a secret treasure. Local historian Dr Joseph Pyrite left a series of clues scattered around Deanchester's landmarks, which Jess, Mason and Kessie are determined to solve. But they only have three days. And they have competition. A series of increasingly cunning tricks awaits Jess and her party as they try to beat Perdita and Thomas to the treasure.

Twins Jess and Mason were off on a school half-term trip to Deanchester with their classmates staying at a local youth hostel. On the way, the coach stopped for lunch at the town of Market Chapton where the children visited the market stalls, and a fortune-teller who tells them they will come into some riches.
One of the stalls was selling old books, including one by historian Dr. Joseph Pyrite who before he died hid his treasure in Deanchester and left clues of its whereabouts. The twins and their friends decide to try and find the treasure whilst they are in the city but they have competition from posh Perdita and her friend Thomas who are also after the treasure. But who will get there first and what exactly will they find?
The Treasure in the Tower is a middle-grade children's adventure book with great characters and lots of clues to be solved to obtain whatever the late Dr. Pyrite had hidden. The two groups, one including twins Mason and Jess and their friend Kessie and the other Perdita and Thomas both have underhand tactics for solving the puzzle and both want to get there first.
There is no love lost between the children and the two groups often had something not very polite to say about the other, don't worry nothing too aggressive or rude, just normal childhood insults and behaviour.
As well as following the clues the class also go on school trips to places such as museums and ghost walks which were interesting to read about. The plot is intriguing and the writing engaging and kept me wanting to find out what was going to happen next. There are also some small black and white illustrations dotted throughout the book too which was nice.
The Treasure in the Tower is a book that will get the reader involved with the storyline and have them wanting to solve the clues alongside the characters. It is an exciting, lovely, clean read that is up to date but also has an air of an old-fashioned-book to it.
The Treasure in the Tower Reviewer – Stacey
---
Purchase online from:
---
About the Author

Rob Keeley is an award-winning author of children's novels, short stories and picture books, including the Spirits series. Other credits include the award-listed stage play Mr. Everyone, and Chain Gang and Newsjack for BBC Radio.
He holds author workshops in schools and libraries and teaches Creative Writing to children and adults.



---
What did you think of The Treasure in the Tower? Share your thoughts in the comment section below!
---
The above links are affiliate links. I receive a very small percentage from each item you purchase via these link, which is at no extra cost to you. If you are thinking about purchasing the book, please think about using one of the links. All money received goes back into the blog and helps to keep it running. Thank you.
Like us on Facebook – Tweet us on Twitter – Pin us on Pinterest