The Jam Doughnut that Ruined My Life by Mark Lowery – Book Review
The Jam Doughnut that Ruined My Life by Mark Lowery – Book Review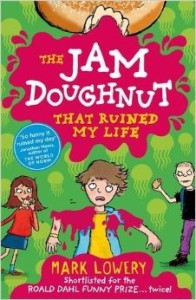 The Jam Doughnut that Ruined My Life
Author – Mark Lowery
Publisher – Piccadilly Press Ltd
Pages – 225
Release Date – 3rd September 2015
Format – ebook, paperback, audio
Reviewer – Stacey & Xander
Contains Affiliate Links

A jam-fuelled week of disaster is set in motion by a single doughnut!
Roman Garstang is obsessed with food – particularly Squidgy Splodge raspberry-jam doughnuts – but he is about to learn that things are not always as sugar-coated as they might seem. Because of his Monday-morning jam doughnut, Roman's week takes a very sticky turn . . .
By Friday Roman has been banned from eating for 24hrs, narrowly avoided a faceful of warm toddler-wee, accidentally shoplifted, been given a lift in a getaway van, styled his teacher's guinea pig with a blue mohawk, started an OAP riot . . . and still barely managed to scoff a crumb – or lick – of a single doughnut.
Who knew jam could be so deadly?

Roman Garstang is having a strange and yet exciting week, full of mishaps and adventures, all caused by his beloved jam doughnuts. Unfortunately for him, his strange week has comes with an ever increasing amount of bad luck.
Mark Lowery has been nominated, and made it in to the short list for the 'Road Dahl Funny Prize', not once, but twice, with both of his previous books, and it's easy to see why.
I love Roald Dahl's books and after reading "The Jam Doughnut that Ruined my Life" with my 9 year old son, I can understand fully why Mark was nominated.
With quirkiness and laugh out loud moments throughout, including searching for the teacher's Guinea pig, who is sporting a Mohawk, to getting himself a new girlfriend, Jane, who turns out to be a 'doughnut digger', Roman is having an unexpected week of weird events.
Roman is a wonderfully written and portrayed character, but it's secondary characters that really bring the story alive, both young and old, including weeing babies and his dopey parents.
I'm not sure who laughed the most, my son or me, but at times we were both crying with laughter and had 'rib ache'.
The story is unique and grabs your attention. It keeps you entertained from the first page to the very last. I also loved the fantastic, colourful cover, which really grabbed both of our attention.
My son, since finished reading this book, asked me to get him Mark's other books. To me this is a testament to just how good the book is.
A fantastic story which I'm sure that kids will love, and mums and dads will enjoy reading to their children.
Book Reviewed by Stacey
Xander's thoughts (my 9 year old)
The story felt like I was sat watching a TV cartoon about it, not reading it, as I could imagine all the characters and the funny moments in my mind.
The book was very exciting and funny all the way through and I didn't want it to end.
I felt that Mark was trying to convince me to like jam doughnuts – which are my favourite type of cake, and I wish I was allowed to eat them everyday!
I can't wait to read more of Mark's books, which I hope are just as funny.
Purchase Links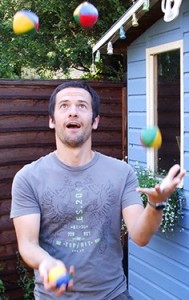 The youngest of four children, Mark Lowery was born in North Wales in 1979 and grew up in Preston, Lancs. Although he maintains that his upper body is of average size, many people have suggested that he has an unusually large head and stumpy legs.
His lifelong dream of playing for Everton was cruelly shattered at 18, when he realised that he was actually useless at football. Following this bombshell, he trained to become a primary school teacher. He denies that this was only so that he could be taller than the majority of people in his workplace.
Following a few years of teaching in Leeds, he studied for an MA in Writing for Children at the University of Winchester. After graduating he taught at schools in Ipswich and Italy, whilst writing in his spare time. He currently works part-time at a school near Cambridge. His claims that he is "the staff-room eye-candy" have been strenuously ridiculed by all those who work alongside him.
Mark is a fluent speaker of terrible Italian. He enjoys football, swimming, snowboarding, reading, playing guitar and running around. However, as a father of three small children, he has recently put some of these interests on hold in favour of nappy-changing and baby-entertaining. He has a real-life human wife who definitely exists, and his favourite meal is steak pie, mash and beans. He is yet to find a cake that he doesn't like.
Author Links