Pigsticks and Harold by Alex Milway – Book Review
Pigsticks and Harold by Alex Milway – Book Review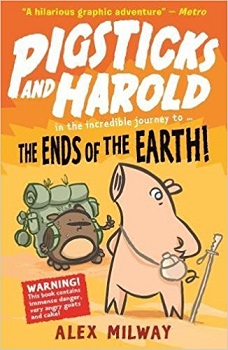 Pigsticks and Harold


The Ends of the Earth
Author – Alex Milway
Publisher – Walker Books
Pages – 80
Release Date – 6th July 2017
ISBN-13 – 978-1406376579
Format – paperback
Reviewer – Stacey
I received a free copy of this book
Post Contains Affiliate Links

The adventures of Pigsticks, the world's most optimistic pig, and his sidekick Harold, an over-anxious hamster. Pigsticks and Harold set off on a journey to the Ends of the Earth armed only with a sense of adventure (Pigsticks'), common sense (Harold's), and a lot of cake.
They pick their way through jungles, trek across deserts and climb a huge mountain, but the Ends of the Earth are always just out of reach. When their last crumb of cake is stolen and it doesn't look like they'll ever make it home again, they finally find the Ends of the Earth – in the last place they'd ever think to look.
Review
Pigsticks was the descendant of lots of famous, noble pigs. One day he decided that he needed to do something important too, just like his forefathers. He decided that he was going to travel to the ends of the earth, and that he would need an assistant.
After placing an advert in the local shop window, he was inundated with lots of applicants, but none were suitable. Then Harold, the Postman, showed up to deliver a parcel. Pigsticks decided that he was the right animal for the job, and so the two set off on the adventure together.
Pigsticks and Harold, is an entertaining, and highly amusing children's book. I would aim this book at around the 6-9 year old range. Although it does have 80 pages, it doesn't have many words on each page, and most of the pages are taken up with black and white illustrations.
Both main characters are fun to get to know, and will lead the reader on an adventure. Will they reach the ends of the earth? Well, you will have to read the book to find out. What I will say is, they certainly have a few mishaps on their travels.
A great start to the 'Pigsticks and Harold' series, with book two, 'The Tuptown Thief' out now too.
Book reviewed by Stacey
Purchase Links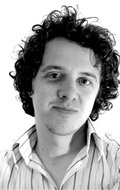 Alex Milway has always enjoyed making up stories and, after leaving art college, he discovered that he liked to write and illustrate them as well. His interest in furry creatures first reared its head in the The Mousehunter trilogy, where weird and wonderful mice ran riot all over the world.
In The Mythical 9th Division, the fur quota got even bigger, as he had to master the art of drawing a troop of yetis whose main purpose was to save the world. Alex is now a full-time author-illustrator, who suffers from furballs and works from his home in London.
Author Links
What did you think of Pigsticks and Harold? Let us know in the comments below.