The Dog Who Lost His Bark by Eoin Colfer – Book Review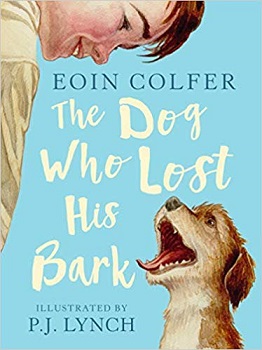 The Dog Who Lost His Bark
Author – Eoin Colfer
Publisher – Walker Books
Pages – 144
Released – 1st August 2019
ISBN-13 – 978-1406386622
Format – paperback, hardcover, audio
Review by – Stacey
Rating – 4 Stars
I received a free copy of this book.
This post contains affiliate links.
Patrick has been desperate for a dog of his own for a long as he can remember – and this summer, with his father away, he longs for a buddy more than ever.
In his short doggy life, Oz has suffered at the hands of BAD PEOPLE. Somewhere out there, he believes, is an AWESOME BOY – his BOY. Maybe when they find each other he will learn to BARK again…

This is a poignant story of a little dog and a young boy who both become firm friends and both learn to trust one another and battle their loneliness together.
Oz, the little puppy has not had an easy life up to now, in fact, the people he has known have all been horrible. From the man who bred him and his siblings to the lady and her husband who bought him as a Christmas Present for their horrid son. When they couldn't control him the man took him far away and dumped him. It was at this horrid house that he learned not to bark as barking meant he got no food.
That is until Patrick took him home from the animal shelter. Patrick was staying with his Grandfather for the summer with his mum. He didn't understand why they were staying for the whole summer holiday's or why his dad was no longer with them. His mum told him he had to work in Australia and she didn't know when he would return.
Oz was sad and scared and Patrick was lonely and confused. With lots of love and attention from both of them, they soon become firm friends.
The Dog Who Lost His Bark is such an emotional book. I'll never understand how anyone can treat an animal (or person) with such hatred as some people do. The book is filled with wonderful black and white illustrations by P.J. Lynch that are just beautiful to look at, they will also make you feel sad when you see the hurt in Oz's eyes.
The book is a quick read but it is oh so heart-warming and touching, especially when you see how these two – a little boy and his bog bond together and need one another. I read it in just thirty minutes as I didn't want to put it down.
Book Reviewer – Stacey
---
Purchase online from:
---
About the Author

Eoin (pronounced Owen) Colfer is the New York Times bestselling author of the children's fantasy series Artemis Fowl. His other notable works include Half Moon Investigations, Airman, and The Supernaturalist and he has sold over twenty million books worldwide.
He was the Irish Children's Laureate, the winner of the Evergreen Young Adult Book Award, and won the Irish Children's Book of the Year Award for his story Imaginary Fred, illustrated by Oliver Jeffers. He resides in Ireland with his wife and two children.


---
What did you think of the book? Share your thoughts in the comment section below!
---
The above links are affiliate links. I receive a very small percentage from each item you purchase via these link, which is at no extra cost to you. If you are thinking about purchasing the book, please think about using one of the links. All money received goes back into the blog and helps to keep it running. Thank you.