Kids Fight Plastic by Martin Dorey – Book Review
Kids Fight Plastic by Martin Dorey – Book Review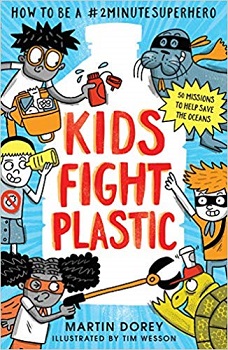 Kids Fight Plastic
How to be a #2minutesuperhero
Author – Martin Dorey
Publisher – Walker Books
Pages – 128
Released – 1st August 2019
ISBN-13 – 978-1406390650
Format – ebook, paperback
Review by – Stacey
Rating – 4 Stars
I received a free copy of this book.
This post contains affiliate links.
Have you got 2 minutes? That's all the time it takes to become a #2minutesuperhero. Plastic is everywhere. It is in the rivers and it is in the sea. We need superheroes to fight plastic and help save our oceans.
Read this essential book and find out how you can become a #2minutesuperhero by completing 50 missions to fight plastic at home, school and on your days out.
Informative, practical and positive, this guide for children is written by Martin Dorey, anti-plastic campaigner and author of the bestselling No. More. Plastic. Martin is the founder of the Beach Clean Network and the #2minutebeachclean movement and believes that small actions add up to make a big difference.

Kids Fight Plastic: How to be a #2minutesuperhero is a children's non-fiction book by anti-plastic campaigner Martin Dorey and illustrated by Tim Wesson.
The book is split into 16 major missions that surround helping to save the planet, then within those chapters are smaller missions. So chapter one is 'Get to Know Bad Stuff' and it helps children identify different plastics. The smaller missions are things such as 'Find Five Pieces of Good Plastic' and 'Five Pieces of Bad Plastic'.
Each mission has a points score and children are to keep score. At the end, the points are added up and they can work out what type of superhero they are.
The book is full of information and resources and each of the missions should take only a short while to complete. There is also a section at the back with websites that children can find out more about saving the planet and especially the oceans and sea creatures from plastic waste.
At a time when plastic pollution is at its worse and people want to help reduce it, Kids Fight Plastic is perfect for them to get to understand why it is bad and how they can help.
Book Reviewer – Stacey
---
Purchase online from:
---
About the Author
Hello. I am a writer, camper van owner, surfer and anti-plastic campaigner.
I am also someone who loves books, partly because books mean adventures. Writing my books, Take The Slow Road:Scotland, The Camper Van Cookbook, The Camper Van Coast and The Camper Van Bible, has taken me to all kinds of brilliant and interesting places because it's all about getting out and doing stuff. It even got me on TV with my BBC 2 series 'One Man and his Campervan'.
I hope my books will inspire you. There is nothing like jumping off a waterfall into a deep, dark pool or cooking great food in the great out doors. In the between times we may have to work, pick up the kids or sit through another day at the office but it will never stop us planning and dreaming. And that's what my books are all about.
I believe in a simple ethos of 'leaving it nicer', which means that I try to clear up wherever I go. It was this thought that led me to found the Beach Clean Network and the #2minutebeachclean, an idea that has gone global and has led me in all kinds of different directions. It has also led me to write my fifth book, 'No. More. Plastic.', a book about changing the world through small actions. I loved writing it.
I live in Bude, Cornwall, in a little house by the sea with Dr Liz, a gardener and botanist, a kitchen garden and a VW Type 5 California camper van. My kids Maggie and Charlie live up the road. I work from the spare room where I write about plastic, beach cleaning, VW's, camping, food, fun and simple pleasures. I am a judge for The Caravan and Motorhome Club's Motorcaravan design awards and also appeared in their epic TV show 'Carvannner of the Year'. Great gig.
I also write for all kinds of brands, publications and periodicals and am a regular contributor to Campervan Magazine, Motorhome and Motorcaravan Monthly and Coast Magazine. I also write a regular column in The Caravan and Motorhome Club Magazine.
I am also a trained Barista, a qualified RNLI Beach Lifeguard, a PADI Drysuit Diver and hold a current Cycling Proficiency Badge (from 1978).
I love tea.



---
What did you think of the book? Share your thoughts in the comment section below!
---
The above links are affiliate links. I receive a very small percentage from each item you purchase via these link, which is at no extra cost to you. If you are thinking about purchasing the book, please think about using one of the links. All money received goes back into the blog and helps to keep it running. Thank you.