Monster Hunting: Monsters Bite Back by Ian Mark – Book Review
Monster Hunting: Monsters Bite Back by Ian Mark – Book Review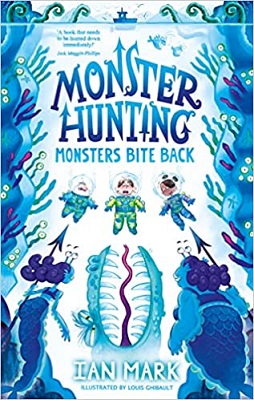 Monster Hunting: Monsters Bite Back
Author – Ian Mark
Illustrator – Louis Ghibault
Publisher – Farshore
Release Date –
Pages – 304
ISBN 13 –
Format – ebook, paperback, hardcover, audio
Star Rating – 4
I received a free copy of this book.
This post contains affiliate links.

Synopsis
The second seriously silly adventure in the hilarious series that turns everything you thought you knew about monsters upside down!
When the monsters start misbehaving it's a monster hunter's job to sort them out!
In their second adventure Jack, his best friend Nancy and Stoop (a grumpy, 200-year-old monster hunter) head up to Scotland after reports of some mysterious monsters causing chaos in an ancient abbey. And maybe they'll even get a glimpse of Nessie! But when they get there they find some obstacles in their path – whether that's the fog goblins, disgruntled ghosts, some very odd loch monsters and even a rival monster hunting agency.
Oh and there's also an ancient curse that spells THE END OF THE WORLD AS WE KNOW IT! A monster hunter's work is never done.
Monster Hunting: Monsters Bite Back is the second book in the amusing children's series of the same name from author Ian Mark. I haven't read book one so I can't give you any backstory. What I can say is that this book seemed to work well as a standalone.
Apprentice monster hunter Jack receives a letter from the Sisters of Perpetual Misery saying they need his help, they are overrun with Lubbers, and the end of the world as we know it is coming. However, Scoop, A 200-year-old Monster Hunter states that Lubbers are not dangerous and to ignore it, but Nancy, their friend tells them that they have to take the note seriously and look into what is happening.
From then on the book becomes filled with monsters, amusing moments, and of course monster hunting! Monster Hunting: Monsters Bite Back is such good fun. It is exciting and entertaining the whole way through and I just didn't want to stop reading.
The illustrations are on point and are just as amusing, if not more so, than the text. Plus, the footnotes will give you a giggle as well.
Overall, this is a book that middle graders will find both comical and adventurous. With its one-liners and slap-stick humour this is a book they won't be able to put down, nor stop laughing at.
---
Purchase Online:
Ian Mark
IAN MARK is an author and monster hunter who spends his time wrestling krakens, hypnotising bogeymen with an eyeball on a string of spaghetti, and writing about his adventures to entertain young monster hunters all around the world. Ian lives in Northern Ireland with his family and lots of small, furry monsters or 'cats'. Monster Hunting for Beginners was his middle grade debut.
Author Links:
---
The above links are affiliate links. I receive a very small percentage from each item you purchase via these links, which is at no extra cost to you. If you are thinking about purchasing the book, please think about using one of the links. All money received goes back into the blog and helps to keep it running. Thank you.