Princesses Break Free by Timothy Knapman – Book Review
Princesses Break Free by Timothy Knapman – Book Review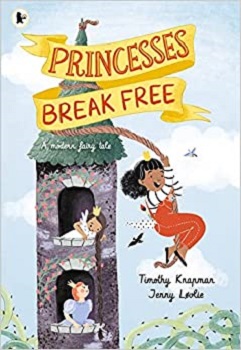 Princesses Break Free
Author – Timothy Knapman
Publisher – Walker Books
Release Date – 5th January 2023
Pages – 40
ISBN 13 – 978-1529507874
Format – paperback, hardcover
Star Rating – 5
I received a free copy of this book.
This post contains affiliate links.

Synopsis
A fun, wild adventure challenging the stereotypical image of the poised, preened damsel; this princess takes life into her own hands without waiting around for anybody else.
We begin our story in a fairy tale world like any other – princesses in distress are rescued by valiant and dashing princes and live happily ever after. But for Tilly, sitting around waiting to be rescued by a prince is BORING. So … Tilly simply rescues herself! "This puny prison can't hold me!" And it's not long before word of Tilly's exploits spreads across the kingdom and inspires other princesses to take their fate into their own hands, too.
Princesses Break Free is a fairy tale that every young child should be reading. If they are used to reading about how princesses always need rescuing by handsome princes then this book will blow their minds as Princess Tilly shows them that princesses are capable of rescuing themselves.
Alongside amusing moments such as Tilly rescuing herself from the clutches of a dragon by using her knickers as a parachute, there are wonderful passages where Tilly teaches children that they can do anything and be anything they want to be.
I just loved Tilly and her wonderful attitude and bravery to be the princess she wants to be. The book is highly amusing and is filled to the brim with amazing artwork which covers each page from top to bottom.
Princesses Break Free is a truly awesome book and one that every young princess (or prince, the book is very inclusive) should read. Hopefully, it will help them become the kick-ass princesses/princes of the future. It also shows them that gender stereotyping is to be ignored.
---
Purchase Online:
Timothy Knapman

Timothy Knapman has written many books for children, including Mungo and the Picture Book Pirates, Dinosaurs in the Supermarket and Eleanor's Eyebrows. He also writes plays and co-writes musicals.
Timothy Knapman is available in a range of colours, and is washable.
Author Links:
---
The above links are affiliate links. I receive a very small percentage from each item you purchase via these links, which is at no extra cost to you. If you are thinking about purchasing the book, please think about using one of the links. All money received goes back into the blog and helps to keep it running. Thank you.