The Land of Reverse by Dave Manousos – Book Review
The Land of Reverse by Dave Manousos – Book Review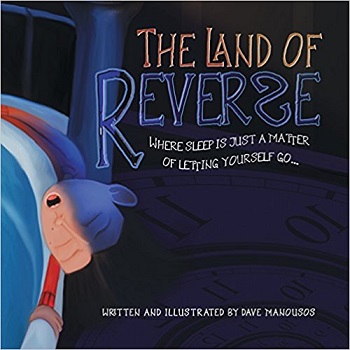 The Land of Reverse


Where Sleep is Just a Matter of Letting Yourself Go…
Author – Dave Manousos
Publisher – Dog Ear Publishing
Pages – 34
Release Date – 9th March 2017
ISBN-13 – 978-1457551932
Format – ebook, paperbook, hardcover
Reviewer – Stacey
I received a free copy of this book
Post Contains Affiliate Links

This fantastic bedtime story is about Sam, an overbooked 9-year-old wound up too tight to fall asleep. Even counting sheep doesn't help. By pretending to fall asleep, Sam falls into a backwards land where everything is flip-flop, opposite and reverse. Through this exercise he discovers a relaxation technique to fall asleep more easily.
Between each dream sequence, "Sam takes a breath and he shuts his eyes tight. He thinks ten miles left, and ten miles right." This refrain moves him on to the next dream sequence until he finally finds himself waking in the morning refreshed with the realization that he found A New Way To Go To Sleep.
Throughout his dream sequences, Sam encounters fun characters that are performing tasks that he would never experience in his awake world: "There were fish catching people and flies eating frogs, Mice chasing cats and cats chasing dogs."
One of the main characters is the Hand Standing Man who acts as a gatekeeper that befriends Sam and helps him to navigate through The Land of Reverse. Before leaving The Land or Reverse, Sam has one last encounter with the Hand Standing Man before waking rested in the comfort of his bed.

Sam couldn't get to sleep. No matter how hard he tried, nothing would work. Then he came up with a very clever idea, he could pretend to sleep, then he may just fall asleep.
Sam shut his eyes and thought ten miles left, and ten miles right, the next minute he found himself in a very strange world.
He had arrived at the 'Land of Reverse', where everything was back to front. Fish caught people, birds flew backwards, and animals fed the humans at the zoo.
The Land of Reverse, is an unusual rhyming book that was published with the help of Kickstarter.
The plot is certainly different, and a little confusing. Had I not been told in the synopsis that Sam had fallen asleep when he arrived at 'The Land of Reverse', I might of thought that this is the place you will end up if you can't get to sleep (in the author's imagination).
Whilst I feel that children will be fascinated with a backwards world, and enjoy the concept of having feet as hands, and hands as feet, the illustrations are a little dark and gloomy and may scare some children.
The illustrations also show Sam trying to get out of the world, and looking sad because he can't. Would this not frighten a child about to go to sleep?
Whilst I think the story is a joy to read, I would say this would be best to not read at bedtime, or if you do, and you are reading it to a young child, don't show them the illustrations.
Book reviewed by Stacey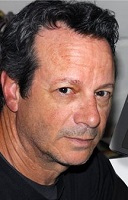 Inspired by the lyrical genius of John Lennon, the nonsensical writings of Lewis Carroll, and the colorful magic of Walt Disney, I realized at an early age I would one day fulfill my dream and publish my writings and drawings.
Thus in 2004, I decided to write and draw for children. "Life is Good & Other Reasons For Rhyme" is the first of the "Life Is" series; with two additional titles "Life Is Weird & Other Rhyme For No Reason" and "Life Is Crazy & More Rhymes For No Reason" to follow. I am a member of The Society of Children's Books Writers and Illustrators, and now a happy member of JacketFlap.
Author Links