The Library of Secrets by Zoe Penn – Book Review
The Library of Secrets by Zoe Penn – Book Review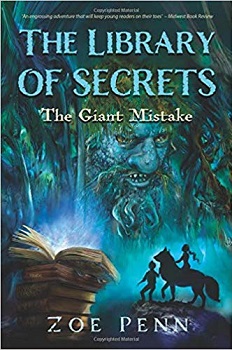 The Library of Secrets
The Giant Mistake
Author – Zoe Penn
Publisher – Planet Zoe d.o.o.
Pages – 160
Released – 8th April 2019
ISBN-13 – 978-9533570266
Format – ebook, paperback
Reviewer – Stacey
Rating – 4 Stars
I received a free copy of this book.
This post contains affiliate links.
Twelve year old Sophia and her younger brother Mark find a mysterious book at the local library and take it home. At first, it seems like just an ancient collection of stories, but soon, the children will discover that it is a portal to another world, Almation – and before they know it, they are trapped in it.
To get back home, Sophia and Mark will have to solve many puzzles, face unexpected dangers and make equally unexpected friends – but maybe even that is not enough…
Full of adventures, challenges and fantastic creatures, the world of Almation will take Sophia and Mark on an exciting journey, and teach them the power of stories.

Siblings Sophia and Mark are home alone for a few hours. Their parents have left town on a business trip and their babysitter isn't due for a few hours. Coming up with ideas to pass the time they head to the library where they find an old discarded book that looks interesting.
Upon opening the book the two of them are sucked inside the pages to a strange land called Almation where the time moves faster than on Earth. To get back home again the siblings must complete a series of challenges, but one wrong move could see them trapped forever. Can they escape within the allocated time of six hours or will the giant Alexar keep them there?
The Library of Secrets: The Giant Mistake is a middle-grade fantasy novel that follows siblings Sophia and Mark as they find themselves within the pages of an old book. The story is entertaining and fast-paced throughout and there are plenty of challenges that the reader can join in with.
The chapters are short and all had interesting titles. Whilst in the unusual world of Almation the pair met some weird characters, some nice, some not so nice. As an adult, the challenges were pretty straightforward but I can see them being quite challenging for a child reading the book, though I did think that sometimes the pair rushed in without thinking about the challenges properly.
There were a few little things that irked me like their parents instead of being mom and dad were called Mr. and Mrs. Clark, but there was nothing major that stopped me enjoying the story.
The book reminds me of the old interactive books (Do people actually still write them?). Whereat the bottom of the page there were different options as to how the journey continued depending on the right answer to the challenges and you had to go to a different page number depending on your choice. I could see this book working as one of these types of books as it would certainly engage the reader into the plot more.
The Library of Secrets is an interesting and well thought out fantasy/adventure book that will intrigue the reader and have them hooked to the book and hopefully enjoying every minute of it.
Book Reviewer – Stacey
---
Purchase online from:
---
About the Author
I am a student, reader, writer, coder, gamer and logic puzzles solver. I love solving all kinds riddles, puzzles and cryptographic codes, and writing about them for children. "The Library of Secrets: The Giant Mistake" is my first book. I also love building worlds, in my imagination and virtual ones. I probably spend too much time on my gaming computer, building and navigating my own worlds, writing fantasy stories and programming.


---
What did you think of the book? Share your thoughts in the comment section below!
---
The above links are affiliate links. I receive a very small percentage from each item you purchase via these link, which is at no extra cost to you. If you are thinking about purchasing the book, please think about using one of the links. All money received goes back into the blog and helps to keep it running. Thank you.