Cloud Babies by Eoin Colfer – Book Review
Cloud Babies by Eoin Colfer – Book Review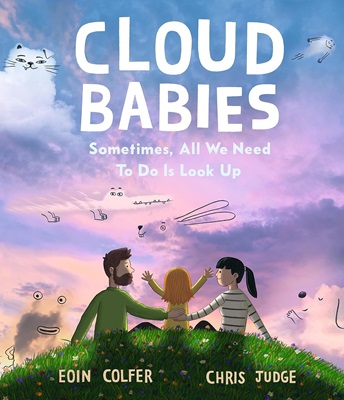 Cloud Babies
Author – Eoin Colfer
Illustrator – Chris Judge
Publisher – Walker Books
Release Date – 5th October 2023
Pages – 40
ISBN 13 – 978-1529502671
Format – Paperback, Hardcover
Star Rating – 5
I received a free copy of this book.
This post contains affiliate links.

Synopsis
Erin's favourite game is spotting animals in the clouds with her mum and dad – everything from foxes and polar bears to little rabbits! She calls them her 'cloud babies'. One day, Erin falls very ill. She has to spend a long time in hospital but she still manages to find comfort and joy in spying cloud babies through the windows with her new hospital friends.
When Dr Bernadette tells Erin that even though there would still be some "hospital days", she can now go home, she is so excited. But being back at school is not at all what she expected. So much has changed. Erin must reconcile the comforting, safe world she has built for herself inside the hospital with the world outside that has now become unfamiliar to her. But with her Mum and Dad's love and guidance, and with the support of her school teacher and friends, Erin realizes that by sharing her world, and her cloud babies, she will find happiness in being herself once more. Sensitively told and vibrantly brought to life on the page, this is a truly powerful source of guidance, acknowledgement and, ultimately, comfort.
Young Erin loves playing cloud babies with her parents. She would look at the sky and spot all kinds of animals in the clouds.
When Erin fell very poorly and had to spend a long time in hospital she would find happiness in looking out of the window and finding cloud babies. However, when she left the hospital her friends at school were all taller and felt older than her and she felt childish looking for cloud babies. She also felt like she didn't fit in anymore.
Cloud Babies is a lovely, heart-warming story that will hopefully show the reader what it is like to have a serious illness that requires a child to be in hospital for a long time and how they feel when they are back with their peers. My youngest son was this child going between long stays in hospital and school and how sometimes they find it hard to feel part of their class as life carries on when they are not there and they miss so much.
The illustrations are wonderful. I presume the clouds are real photographs (they certainly look real) and then the author has added some landscape drawings and turned the clouds into animals.
Overall, Cloud Babies is such an enjoyable read. Hopefully, it might make the reader look to the sky and find their own cloud babies too.
---
Purchase Online:
Eoin Colfer

Eoin Colfer is the New York Times bestselling author of the children's fantasy series Artemis Fowl. His other notable works include The Dog Who Lost His Bark, Half Moon Investigations, Airman and The Supernaturalist, and he has sold over twenty million books worldwide.
He was the Irish Children's Laureate, the winner of the Evergreen Young Adult Book Award, and won the Irish Children's Book of the Year Award for his story Imaginary Fred, illustrated by Oliver Jeffers. He lives in Ireland with his wife and two children.
Author Links:
---
The above links are affiliate links. I receive a very small percentage from each item you purchase via these links, which is at no extra cost to you. If you are thinking about purchasing the book, please think about using one of the links. All money received goes back into the blog and helps to keep it running. Thank you.