Santarella by Suzy Senior – Book Review
Santarella by Suzy Senior – Book Review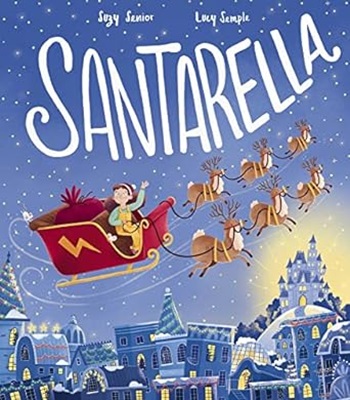 Santarella
Author – Suzy Senior
Illustrator – Lucy Semple
Publisher – Little Tiger
Release Date – 12th October 2023
Pages – 32
ISBN 13 – 978-1801045025
Format – Hardcover
Star Rating – 4
I received a free copy of this book.
This post contains affiliate links.

Synopsis
Santa meets Cinderella in this funny, fractured fairy tale by bestselling author Suzy Senior (Octopants, Unicorn Club, The Hotel for Bugs).
Oh no! It's a chilly, frosty Christmas Eve and Santa's hurt his back. He cannot fly the sleigh or even lift his sack! Is Christmas ruined? Not if Cinderella has anything to do with it! Leaving her mean step-sisters behind, she offers to give Santa a hand, and – along the way – travels the world. But Santa has one more gift in his sleigh. Could it be the chance for Cinderella to write her own happily-ever-after?
Packed with a rollicking rhyme and hilarious illustrations from Lucy Semple (Watch Out, Wolf! There's a Baddie in Your Book) this fab feminist retelling of a classic fairy tale challenges stereotypes and is a joy to read aloud. Fans of fractured fairy tales like Little Red by Bethan Woollvin, Fearless Fairy Tales by Konnie Huq, James Kay and Rikin Parekh, and The Fairytale Hairdresser and Father Christmas by Abie Longstaff and Lauren Beard, will love this joyous story full of festive magic and wonder.
Santarella is a children's rhyming picture book and a kind of retelling of Cinderella. Just like in the original fairy-tale, Cinderella has two sisters who demand she does everything around the house and then leave her all alone whilst they go off to the ball with the prince.
However, this Cinderella doesn't head to the ball too, no she is off helping Santa deliver his presents after he hurts his back.
Santarella is an amusing story that flips the original story and shows that Cinderella doesn't need a man or a pretty dress she wants to be her own person and would rather have adventures than go to a ball.
I loved the first part of the story but wasn't so sure about Cinderella going off on her own around the fairy-tale world, but hey this is make-believe and she can do anything!
The illustrations are amazing and capture all the moments perfectly. They are bright, colourful, and full-page and make you feel Christmassy.
The perfect Christmas read. It shows children that they don't have to follow what others do and to be their own person, though I'm not sure they will find many dragons or pixies to help, they can dream!
---
Purchase Online:
Suzy Senior

Suzy Senior lives and works at the top of a huge hill in Yorkshire. She lives with her husband, two lovely children, two guinea pigs, a hamster, some fish, a grumpy kestrel, twelve whippets and a family of cheeky ferrets.
She has worked in publishing for what seems like ages, and still really loves it. In her spare time she likes to write books for children, but usually has to clean out the guinea pigs instead.*
*That's all true, except for the bit about the ferrets, the kestrel and the whippets. To be honest, it's mainly just fish and guinea pigs. But that's plenty, really.
Author Links:
---
The above links are affiliate links. I receive a very small percentage from each item you purchase via these links, which is at no extra cost to you. If you are thinking about purchasing the book, please think about using one of the links. All money received goes back into the blog and helps to keep it running. Thank you.