Molly's Magic Wardrobe by Adam and Charlotte Guillain – Book Review
Molly's Magic Wardrobe by Adam and Charlotte Guillain – Book Review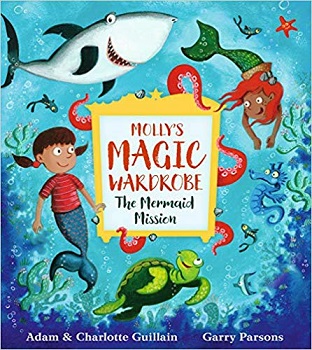 Molly's Magic Wardrobe
The Mermaid Mission
Author – Adam and Charlotte Guillain
Illustrator – Garry Parsons
Publisher – Egmont
Pages – 32
Released – 4th April 2019
ISBN-13 – 978-1405285377
Format – paperback
Reviewer – Stacey
Rating – 4 Stars
I received a free copy of this book.
This post contains affiliate links.
Join Molly on her second magical adventure as she visits the enchanted dressing-up wardrobe in her Granny's house. There are so many costumes to choose from in her magic dressing-up wardrobe.
Today she's going to be . . . a mermaid! With a whizz and a pop and a shower of stars, Molly dives below the sea and soon finds herself on a mission: she must race to save the mermaids' shipwreck from some pesky sharks!
This rhyming adventure full of magic is brought to life with bright, eye-popping artwork from Garry Parsons, illustrator of the bestselling Dinosaur That Pooped series.

Molly has a magic place where she likes to play, her grannies wardrobe. Once afternoon she spots a mermaid costume hanging in the wardrobe, so she puts it on and counts to three and waited for her adventure to begin.
She soon found herself under the sea and meeting with other mermaids in an old shipwreck, however, it's not long before some big sharks arrive and declare that the shipwreck is theirs and that the mermaids need to move to somewhere else.
Molly thinks the sharks are mean and comes up with a plan. She offers the sharks the option of racing the mermaids, the winner gets to keep the shipwreck for themselves. Just how are the mermaids going to win against the fast sharks though?
This is the second book in 'Molly's Magic Wardrobe' series, yet the first I have read. On opening the book the bright, colourful, full-page illustrations leaped out at me. They are simply divine and I can see lots of children enjoying them.
The story of a magic wardrobe taking a young girl on an adventure to different places reminded me a little of The Lion, The Witch and the Wardrobe crossed with Mr. Benn. I am sure this will get lots of children's imaginations working and hoping that their grandparents have a magic wardrobe too.
I think Molly's Magic Wardrobe is simply beautiful. It has a great story within the pages about kindness and I can see it being a real hit with little children. It would make a fantastic class read as well as a bedtime story.
Book Reviewer – Stacey
---
Purchase online from:
---
About the Authors

Adam Guillain is a children's writer, musician and a co-founder of Storytelling Schools. Charlotte Guillain taught English to air traffic controllers and nurses before deciding a career in publishing would endanger fewer lives.
Since meeting in Zanzibar while working with Voluntary Services Overseas, they have written several picture books together including Supermarket Gremlins, School for Dads and the George's Amazing Adventures series.




---
What do you think of the book? Share your thoughts in the comment section below!
---
The above links are affiliate links. I receive a very small percentage from each item you purchase via these link, which is at no extra cost to you. If you are thinking about purchasing the book, please think about using one of the links. All money received goes back into the blog and helps to keep it running. Thank you.