The Cat That Changed America by Tony Lee Moral – Book Review
The Cat That Changed America by Tony Lee Moral – Book Review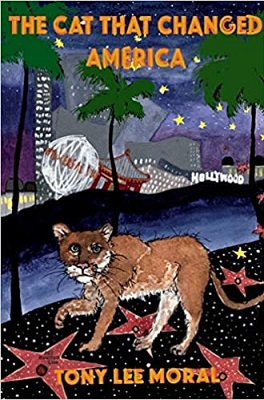 The Cat That Changed America
The story of P22 mountain lion
Author – Tony Lee Moral
Illustrator – Louise Goves
Publisher – Sabana Publishing
Pages – 138
Released – 22nd October 2020
ISBN-13 – 978-1838211516
Format – ebook, paperback
Review by – Stacey
Rating – 4 Stars
I received a free copy of this book.
This post contains affiliate links.


Based on a true story with an imaginative retelling for young readers;
P22 mountain lion is born in the beautiful Santa Monica Mountains outside Los Angeles, California. But he is forced out of the mountains by Prime, a fierce older male lion who wants him dead. He heads east to stake out a new territory of his own in the bright lights of the big city.
Along the way, he makes friends as well as enemies, and crosses two freeways, the 405 and 101. He passes through the City of Stars at night, and strolls down the Hollywood Walk of Fame, all the while trying to avoid those bothersome humans.
After more adventures, he reaches the edges of Griffith Park. Can he make it his new home?

The Cat That Changed America is the story of P22 a Mountain Lion that trekked from his home in the middle of the mountains of Santa Monica to the hills of Hollywood after being forced away by the dominant male Prime who would stop at nothing to kill him.
Starting as a young kitten with his mum and brother, the three of them lived together for a few years until the boys were old enough to move on and start their own lives. Along his journey to his new home P22 meets a lot of wildlife. Some friendly, the others not so much. He also needs to navigate his way carefully to avoid the humans and their metal machines.
In all honesty, I'd never heard of P22 and how famous he was in America. The Mountain lion who made Griffith Park, Los Angeles his home. From what I've learned is that the Mountain Lions were being monitored and each given a letter P and a number. So p22 was the 22nd Mountain Lion that was monitored and named.
The story isn't just about P22's life and him moving from his home to Griffith Park, but also about conservation and what we as a society need to do to help our wildlife. Because P22 moved to an area not known for Mountain Lions, an area more associated with human and smaller animals and he became an overnight star. P22 being in the park led to talks about how to help the lion population and keep them safe.
The book is a fictional account of P22's life, though a lot of factual information has been kept in to educate children. The chapters were quite short with an illustration at the beginning of each one, which I was underwhelmed with as they are black and white roughly drawn sketches of the lions that to me looked nothing like a Mountain Lion. I prefer children's books to have colourful, engaging illustrations in them to bring the story to life.
Overall, it is an intriguing read that mixed fact and fiction together and gave a backstory to P22's life.
Book Reviewer – Stacey
---
Purchase online from:
---
About the Author
Tony Lee Moral is an author specialising in mystery and suspense. He has written three books on the Master of Suspense, Alfred Hitchcock: Alfred Hitchcock's Movie Making Masterclass (2013) published by MWP books; The Making of Hitchcock's The Birds (2013) published by Kamera Books and Hitchcock and the Making of Marnie (2005) published by Scarecrow Press.
Tony was born in Hastings, England in 1971, before moving to California. He lived in Monterey and Big Sur for two years which forms the inspiration for his latest thriller The Haunting of Alice May, which was published in March 2019 in Paperback and Kindle.





---
What did you think of The Cat That Changed America? Share your thoughts in the comment section below!
---
The above links are affiliate links. I receive a very small percentage from each item you purchase via these link, which is at no extra cost to you. If you are thinking about purchasing the book, please think about using one of the links. All money received goes back into the blog and helps to keep it running. Thank you.
Like us on Facebook – Tweet us on Twitter – Pin us on Pinterest