The Black-Marketer's Daughter by Suman Mallick – Book Review
The Black-Marketer's Daughter by Suman Mallick – Book Review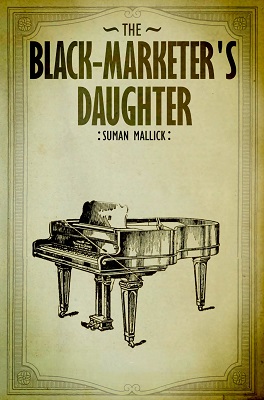 The Black-Marketer's Daughter
Author – Suman Mallick
Publisher – Atmosphere Press
Pages – 166
Release Date – 13th October 2020
ISBN 13 – 978-1648261541
Format – ebook, paperback
Review by – Selina
Rating – 4 Stars
I received a free copy of this book.
This post contains affiliate links.


When Zuleikha arrives in Texas via arranged marriage from Pakistan, she soon realizes how different life in America is from the portrayals in the confiscated contraband books and movies her father trafficked in to pay for her education and dowry. Having trained as a pianist without ever owning a real piano, she finally has one—a wedding present from her husband. As Zuleikha learns to navigate her new role as a suburban middle-class housewife, she begins to feel diminished by her seemingly kind husband's regular dismissal. She offers piano lessons to the neighborhood kids, and in doing so begins to find her identity and independence.
Everything changes when Patrick—the father of her young son's friend—signs up for lessons himself. Zuleihka and Patrick grow closer, and Zuleihka finds herself in love for the first time. Zuleihka is caught between being a good Muslim wife and obedient daughter, and following her heart. Despite how careful she is, the affair is eventually discovered, leading to horrific violence with gruesome and fatal consequences. The ensuing circumstances catapult Zuleihka into the glare of the public eye in a foreign land, where she finds herself at the epicenter of a political firestorm fueled by winds of anti-Muslim hysteria, with different people seemingly using her situation to advance their own hidden agendas.

Slightly away from my usual Genres, I wanted to give this a go and see where it took me.
Zuleikha is from Lahore, Pakistan. She marries Iskander in an arranged marriage and emigrates with her husband to Irving, Texas, USA. Iskander Seems to want his new wife to be happy and comfortable by buying her a car and a piano so she can continue doing what she enjoys the most.
Their firstborn son Wasim arrives soon after they move and life doesn't get any easier for Zuleikha as we learn her marriage is breaking down. As time goes on, Zuleikha starts to give piano lessons to Patrick, who is the father of Wasim's friend Jamieson.
Soon she finds herself in a situation where there is no turning back and an affair has begun. When Iskander does find out, his reaction is dire and we get to see a different side to him. With charges of domestic violence and manslaughter, he now has to face the consequences of his actions.
Although a short novel, The Black-Marketer's Daughter has a lot crammed in and it will keep your interest throughout, just as it did mine.
I was a little disappointed with the ending as the book kind of just stops when I was hoping we would have had more to ponder at the end and some sort of closure, however, it was still a decent read.
Book Reviewer – Selina
---
Purchase online from:
---
About the Author

Suman Mallick's debut novel The Black-Marketer's Daughter was shortlisted for the Disquiet Open Borders Book Prize, and praised by the jury as a "complicated and compelling story" of our times.
It is scheduled to be released October 13, 2020 by Atmosphere Press.​
Suman received his Master of Fine Arts from Portland State University, where he also taught in the English and Creative Writing departments.
He makes his home in Texas with his beloved daughter and dog. His homes away from home are Calcutta, India, and Portland, Oregon.




---
What did you think of The Black Marketer's Daughter? Share your thoughts in the comment section below!
---
The above links are affiliate links. I receive a very small percentage from each item you purchase via these link, which is at no extra cost to you. If you are thinking about purchasing the book, please think about using one of the links. All money received goes back into the blog and helps to keep it running. Thank you.
Like us on Facebook – Tweet us on Twitter – Pin us on Pinterest